Samantha Bee addresses Ivanka Trump controversy: "I want this show to be challenging"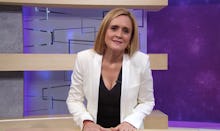 Wednesday night, comedian and late-night host Samantha Bee spoke about the firestorm of controversy she recently ignited. On the May 30 episode of her show Full Frontal With Samantha Bee, Bee called presidential daughter Ivanka Trump a "feckless cunt" while discussing migrant children being mistreated at the U.S. border — launching a full news cycle about her use of the word and the backlash to it.
"A lot of people were offended and angry that I used an epithet to describe the president's daughter and adviser last week," Bee said on Wednesday night. "It is a word I have used on the show many times, hoping to reclaim it. This time, I used it as an insult. I crossed the line, I regret it and I do apologize for that."
Bee went on to say that the slur she used is painful for many women, who don't want to hear it reclaimed at all. "I don't want to inflict more pain on them," she said. "I want this show to be challenging and I want it to be honest. But I never intended it to hurt anyone. Except Ted Cruz."
The host added that she "hates" that the controversy around her use of a word "distracted from more important issues," and that she herself became the cause of "the nightmare of 24-hour news cycles that we're all white-knuckling through."
"I should have known that a potty-mouthed insult would be inherently more interesting to them than juvenile immigration policy. I would do anything to help those kids. I hate that this distracted from them, so to them, I am also sorry."
The backlash to Bee's use of the word "cunt" was swift — especially coming just days after ABC cancelled Roseanne following racist and offensive tweets from that show's star, Roseanne Barr. Conservative viewers claimed Bee was benefiting from a double standard, and it wasn't long before the White House responded.
"The language used by Samantha Bee last night is vile and vicious," White House press secretary Sarah Huckabee Sanders said in a statement to the Washington Post. "The collective silence by the left and its media allies is appalling. Her disgusting comments and show are not fit for broadcast, and executives at Time Warner and TBS must demonstrate that such explicit profanity about female members of this administration will not be condoned on its network."
Bee tweeted out an apology the day after the initial episode aired, saying that she "would like to sincerely apologize to Ivanka Trump and to my viewers for using an expletive on my show to describe her last night," adding that it was "inappropriate and inexcusable." She also had plenty of defenders, online and off.
But that didn't stop Donald Trump from weighing in: On Friday, he tweeted that Bee should be fired.
Bee's comment also launched a discussion among viewers who lamented a lack of "civility" in public discourse — and Bee addressed that on Wednesday night as well. "I'm a comedian," she said. "People who hone their voices in basement bars while yelling back at drunk hecklers are definitely not paragons of civility. ... I'm really sorry that I said that word, but you know what, civility is just nice words. Maybe we should all worry a little bit more about the niceness of our actions."