For people with disabilities, lingerie can empower and change lives. Now they need more options.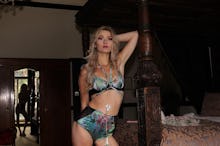 When Jasmine Stacey was just 20 years old, she had surgery because of her Crohn's disease that resulted in her needing a permanent ileostomy bag, which meant Stacey had to wear a pouch affixed to her abdomen. Immediately, she missed the kinds of lingerie she used to wear, and so began her quest to make lingerie for women like her, who have ostomies and may use a bag.
In 2015, she founded Jasmine Stacey Collection, a lingerie line that keeps people with various disabilities and illnesses in mind, with her high-waisted underwear being the most critical part.
"The lingerie is higher waisted — higher than a lot of the 'higher' waisted ones that are advertised to be able to fully support stoma bags," Stacey said. "They are designed with sex and intimacy in mind, to be worn whilst having sex to cover and support the bag to help women to regain confidence after life-changing surgery."
The designs themselves are also beautiful, with strap detailing, lace, floral silk and a retro-inspired feel, and the campaigns star women with disabilities.
"I remain dedicated as I suffered from the anxiety, feelings of loneliness and worrying about being 'normal' again after surgery, and suffering with a chronic illness on a day to day basis," Stacey said. "I love knowing that my lingerie can make a difference to a women's self-esteem."
Designers like Stacey remain exceedingly rare in the lingerie industry. Adaptive fashion basics like pants, shirts and jackets from brands like Tommy Hilfiger and Target are just starting to be normalized, but lingerie for people with disabilities is a market that's largely untapped.
"The next step forward is to engage in a broader conversation about the importance of adaptive lingerie to continue igniting confidence and sexiness for people with disabilities," Mindy Scheier, the founder of the Runway of Dreams Foundation, a nonprofit fighting for more inclusion in the fashion industry for people with disabilities, said in an email. "Through our research with the community, the biggest piece of feedback we receive is that there aren't any adaptive lingerie options, and coupled with the fact that lingerie specifically poses challenges to maneuver independently, it's imperative that we work to inspire the industry to be more inclusive."
What this lack of options has meant is that these customers have had to get creative, and seek out brands that may not have immediately been aware that they're creating garments that are beneficial to a wide array of people with various disabilities.
One of those brands is Slick Chicks, an underwear brand that launched initially with only the maternity market in mind.
"My sister gave birth and she had really horrible complications and so after that, her husband was helping her change and use the restroom," Helya Mohammadian, the founder of Slick Chicks, said in an interview. "I'm a designer, and she was telling me the story about how something as intimate as putting on her underwear was so hard. I made a prototype of underwear for her that clasped on the side, and researched the market for these types of products."
What Mohammadian found is that everything on the market that could have helped her sister get dressed felt either medicinal or geriatric, so she launched her brand in the hopes of creating a brand that mixed fashion with functionality for pregnant women or women who had just had children. Soon after launching, people with other kinds of disabilities found her brand, and the business completely changed.
"I completely pivoted what I thought was going to be my business," Mohammadian said. "If you look good, you feel good, and so I wanted to create this product to impact the quality of life for what I thought was a select few but what is actually millions of people. I started hiring women with disabilities to work with me. The mission turned into empowering people and giving them a sense of dignity and independence."
All of the models seen on Slick Chick's website are customers with various disabilities themselves, and the site features a blog that talks about topics like sex and disability, menstruation and disability and seemingly every other major issue facing Mohammadian's customers.
Another brand communities with disabilities have latched onto is Tomgirl Apparel, which specializes in bras that feature an easily adjustable elastic band and a velcro back fastener.
"Tomgirl began as a solution for women with small band sizes, but quickly it became apparent that the bra was beneficial for many more reasons," Amanda Lehto, the founder of Tomgirl, said in an email. "Customers with disabilities and limited mobility sought out a wireless bra that was still flattering and allowed for ease of putting on and off. Once I started getting messages from customers thanking me and talking to them about their issues with traditional bras, I realized that this design was also a great solution for them."
The velcro fasteners can be operated one-handed and it is easier to fasten for people with limited mobility in their fingers. Also, people with chronic pain from conditions like fibromyalgia or costochondritis benefit from the design because of the wide band around the ribs, the lack of wires and the ability to loosen it on the go as needed.
There's also the brand Wings Intimates, which creates underwear with a side-opening that's useful for people with limited mobility and their caretakers. Similar to Slick Chicks, the founder of Wings, Azita Yaghoobian, was inspired after her own C-section and finding how hard it was to get dressed.
"It was a natural evolution of the company to be noticed and embraced by the disabled community," Yaghoobian said in an email. "[Our underwear] can be especially useful for women with certain types of disabilities where they cannot bend or need assistance in activities of daily living, those weakened by prolonged treatments such as chemotherapy and women in a post-surgery state who are limited in their movements."
Presumably, there are people with disabilities or going through an illness that have a need that's not being met by the current state of options. That's a shame, given how meaningful this lingerie can be for these customers.
"I think that something as simple as intimates and lingerie is supposed to make you feel good and if you're starting off your day with a challenge like getting dressed, that does set the tone for the rest of your day," Mohammadian said. "They are just like any other customer."
"Lingerie is the foundation for confidence," Stacey said. "If you are wearing comfortable, sexy underwear — this then [catalyzes] your choices in clothing, how you walk, how you feel. I think it just has the ability to make you feel amazing in a lot of situations."
The truth is that all of the company founders Mic talked to noted just how tiny the tweaks are within lingerie that can lead to pieces being considered adaptive. Something as small as a different kind of clasp, or extra elastic, can make items accessible for a whole new audience. Understandably, any extra step in the making of bras in particular can cost a ton of money for companies. However, people with disabilities make up the largest minority group in the United States, so there's plenty of reasons for designers to look to this market for opportunities. Slick Chick's Mohammadian, for instance, is already looking into making men's briefs.
"A challenge in design is exciting for me," Mohammadian said. "I want to figure out how to improve things. I don't think it's a difficult process. I think with any company you have to be forward-thinking. You have to fill a void in a market, you have to be forward-thinking because the world is changing and you can be left behind if you don't advance with your technology."
What needs to happen so there are more options out there is a wider conversation about people with disabilities and their needs from the fashion industry. Using models with various disabilities, which brands like Curvy Kate have done for a while, would also likely improve the situation.
"There needs to be an education period for brands to truly understand this need and the importance of people with disabilities to be included in the conversation around sexiness and feeling sexy," Scheier said. "I also think there's something to be said for including models with disabilities in ad campaigns for lingerie brands. Showing the community that people with disabilities are being featured in major campaigns is incredibly important."