"It's about attitude": Trump puts pageantry over preparations ahead of historic summit with Kim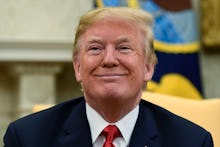 President Donald Trump on Thursday suggested he doesn't need to prepare for his historic summit with Kim Jong Un, telling reporters in the Oval Office that securing a deal with the North Korean leader will depend more on "attitude" than planning.
"I'm very well prepared," Trump said during a meeting with Japanese Prime Minister Shinzo Abe. "I don't think I have to prepare very much. It's about attitude. It's about willingness to get things done."
The remarks came on the heels of a Politico report characterizing the planning behind Tuesday's summit in Singapore as "unstructured" and largely driven by Trump himself — and hint that the president will take an improvisational approach to the high-stakes meeting, something experts and lawmakers described as potentially dangerous.
"It doesn't surprise me given the nature of this administration, but it should worry people a great deal," Richard Haass, president of the Council on Foreign Relations and Colin Powell's former director of policy planning at the State Department, said in a phone interview. "Given the stakes here, it's reckless not to prepare."
Normally, according to Haass, preparations for such a summit would include intelligence briefings on Kim's negotiating style and positions, as well as State Department and Pentagon briefings on issues in the region, potential outcomes and other considerations. Planning may also include meetings with outside experts in academia.
"You want to go into the room as armed and prepared as you can be," Haass said. "To the extent you can, you want to minimize the chance of surprise."
But unpredictability has been a running theme in Trump's moves on North Korea.
He spent the bulk of his first year in office trading petty insults and nuclear threats with Kim, but in March hastily agreed to meet with the North Korean dictator following a strong diplomatic push by South Korean President Moon Jae-in.
Trump touted the planned meeting as a major foreign policy accomplishment, playing into sky-high expectations for a potential nuclear deal and suggesting he deserved the Nobel Peace Prize.
But then, in late May, he abruptly canceled the summit after a North Korean official described comments by Vice President Mike Pence as "ignorant and stupid."
Pence had echoed national security adviser John Bolton in invoking Libyan leader Muammar Gaddafi — who gave up his nuclear program in 2003 only to be killed in a U.S.-backed uprising in 2011 — in discussing the U.S. approach to denuclearizing North Korea.
The Kim regime objected to the comments made by Bolton and Pence, accusing the U.S. of "trying to drive us into a corner to force our unilateral nuclear abandonment."
"Sadly, based on the tremendous anger and open hostility displayed in your most recent statement, I feel it is inappropriate, at this time, to have this long-planned meeting," Trump wrote in a letter to Kim.
But Trump left open the possibility of salvaging the summit, and — after a week of diplomatic negotiations between the U.S., South Korea and North Korea — announced the meeting was back on.
Some have speculated that Trump's unpredictability played a major role in bringing Kim to the negotiating table. But according to Erica Fein, advocacy director at Win Without War, a progressive national security advocacy program of the Center for International Policy, the president's impromptu approach to the summit could jeopardize the breakthroughs that have come from Moon's diplomacy.
"It's impossible to wing this," Fein said in an email interview. "While we'd like to think that an outside-the-box change in approach will achieve a good outcome, it's more likely that President Moon's carefully crafted diplomacy will have been the difference maker here. And furthermore, only sustained, behind-the-scenes work will produce a durable agreement and see that agreement implemented over a long period of time."
It's unclear what kind of agreement between Trump and Kim is possible.
The administration has long set the "complete, verifiable and irreversible dismantlement" of North Korea's nuclear program as its ultimate goal, but Trump has recently suggested a willingness to accept a more incremental approach.
In a letter to Trump on Monday, top Senate Democrats outlined what appeared to be an all-or-nothing approach to negotiations with Kim and called for congressional oversight in the diplomatic process.
Sen. Mark Warner (D-Va.), who cosigned the letter, said in an emailed statement to Mic that Trump's unstructured approach to preparations for the meeting is "concerning" and reiterated the importance of congressional oversight.
"Any agreement with North Korea must denuclearize the Korean peninsula and be subject to strong congressional oversight," Warner said in the statement. "A deal for a deal's sake won't cut it."
Speaking to reporters as he met with the Japanese prime minister Thursday, Trump promised the summit would be "more than a photo op."
But Trump's characteristic pageantry has already been infused into his comments on the summit.
Trump announced June 1 the summit was back on after a top North Korean official delivered a letter to him from Kim. Speaking outside the White House with the showmanship of the reality television star he once was, Trump teased reporters about the note's contents — which he described as "nice" before admitting, eight minutes later, that he hadn't opened it.
"Oh, would you like to see what was in that letter?" Trump said. "How much? How much? How much?"
The spectacle will likely continue on Sentosa Island, just off Singapore's southern coast, where the meeting will take place Tuesday.
Sean Hannity, the Fox News host who reportedly speaks with Trump by phone on a nightly basis and has apparently been dubbed the president's "shadow" chief of staff, is expected to travel to Singapore for the summit, from which he will broadcast his show for three nights, according to the Hollywood Reporter.
Sebastian Gorka, a former Trump administration official who now serves as a Fox News commentator, said Monday he would accompany Hannity and his team, which also includes Fox News hosts Bret Baier and Chris Wallace.
It's been reported in recent days that ex-NBA star Dennis Rodman, who considers himself a personal friend of both Trump and Kim, may attend the meeting. But Trump said Thursday that the former baller known as the "Worm" — whom the president characterized as a "nice guy" — would not be joining him in Singapore.
Trump also said his meeting with Kim would be part of a process, "not a one-meeting deal."
Rep. Lois Frankel (D-Fla.), a member of the House Committee on Foreign Affairs who has previously criticized Trump for "[running] the country and diplomacy like a reality show," said in a statement to Mic that she hopes the president will put substance over optics in the summit.
"I hope that Mr. Trump will be guided by the need for a long-term, peaceful solution and not a short-lived media event," Frankel said.