Miss America eliminated the swimsuit competition. So now what?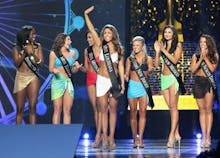 The Miss America pageant is a pageant no longer.
The Miss America Organization announced Tuesday both the swimsuit and evening gown portions would be coming to an end. Gretchen Carlson, the organization's chairwoman and Miss America 1989, said Tuesday on Good Morning America that the descriptor of it as a "pageant" no longer applies. "We are a competition," she said.
And not just any competition, but certainly a competition that's felt the influence of the #MeToo era. "We are not going to judge you on your outward appearance," Carlson said on GMA. "We are moving it forward and evolving it in this cultural revolution."
Loren Galler-Rabinowitz, who competed in Miss America 2011 as Miss Massachusetts, has been rallying for the change for years.
"I think there's something antithetical to the mission of a women's scholarship organization when we're saying that a necessity to basically be given the job as a representative of that nonprofit is to wear high heels and a small bathing suit," Galler-Rabinowitz said in an interview.
"No one is telling you you can't wear a bathing suit or a beautiful dress and not feel as beautiful, but I think the idea that that's an appropriate metric to choose someone to represent a scholarship program has always felt wrong."
That kind of sentiment has been shared by other contestants, including Claire Buffie, who was Miss New York at the 2011 Miss America pageant. "It has nothing to do with the job you're going to do as Miss America," Buffie said. "I think it's time we align the selection process with the job description."
Cara Mund, the reigning Miss America and the last winner to take part in the swimsuit and evening gown competitions, weighed in with a video posted on the Miss America Instagram account.
"This is a scholarship organization, and you don't have to be in a swimsuit to earn a scholarship," she said.
Other former contestants have called out the swimsuit competition specifically for encouraging unhealthy behavior.
"I saw what some contestants (far too many), superb in every other area of competition, put themselves through in order to prepare to be in 'swimsuit shape,' for competition," Kirsten Haglund, Miss America 2008, wrote on Facebook. "Many things which were downright dangerous to their physical, mental, emotional and spiritual health and inconsistent with their normal regimen and routine of a 'healthy lifestyle' that the competition purported to promote."
The change to Miss America hasn't been without criticism. The move comes at a time when the organization has seen some controversies. The Huffington Post reported in December on emails that showed Sam Haskell, the former chief executive, had made misogynistic comments about former winners. And there's been dwindling viewership, the New York Times reported.
"I can confidently say that Miss America's decision to get rid of the swimsuit competition isn't about creating an 'inclusive' competition; it's about trying to correct a PR disaster and staying relevant," Ashley Alese Edwards, who has competed in multiple pageants and is also a former Mic editor, wrote for Refinery29.
But Galler-Rabinowitz has a more optimistic vision for what the change could mean, that it will open up the scope of women who'd be interested in competing.
"I still think this is an incredibly welcome change, and opens up who decides to compete in this," said Galler-Rabinowitz, who now works as a doctor in New York City. "I've had friends talk to me about a need for scholarship money and an interest, who are very much uncomfortable with the idea that in order to get those dollars, you would have to appear in front of millions of people in a swimsuit."
Maybe that will happen. But regardless, there are still many outdated practices within the organization. The age of contestants is capped at 25, raised from 24 in January, and women still cannot compete if they've been married, ever been pregnant or have a child.
This is very much still the beginning of an overhaul within the organization, and Buffie and Galler-Rabinowitz both have their own ideas for how Miss America can further modernize itself.
"There are some very specific things I've always wanted to change with the telecast," Buffie said. "The telecast focuses on those onstage questions and the crown, basically, and people are waiting just to see if they bomb their moment. What it doesn't focus on is what we do the entire year. What we do, and our platforms, should be highlighted. Whether it's small packages of the top 15 and what they've done, we should get their backstories."
Galler-Rabinowitz said "showing a commitment and passion for academic achievement should be part of the scholarship organization." "That's another piece of this process," she said. "What this is going to allow the telecast to do is spend more time focusing on the things that are important, which is what women have to say and what they're doing to make the world a better place."
We'll just have to see what really happens come September, when the Miss America 2019 competition is set to take place in Atlantic City, New Jersey.