In latest apparent ethical breach, Scott Pruitt enlisted security detail on hunt for lotion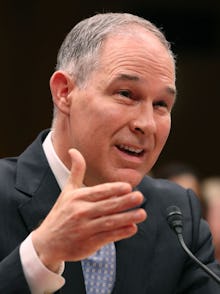 Environmental Protection Agency administrator Scott Pruitt enlisted his security detail to run personal errands for him, asking the taxpayer-funded staff to pick up his dry cleaning and even asking for their help to get him lotion from the upscale Ritz-Carlton hotel, the Washington Post reported on Thursday.
The news is just the latest in the growing ethical cloud surrounding Pruitt, for which Pruitt is under investigation by the House Oversight and Government Reform Committee and the EPA's inspector general.
On Monday, the Washington Post reported that Pruitt asked a staffer to help him purchase a discounted used mattress from the Trump International Hotel in Washington, D.C., as well as to help Pruitt apartment hunt and arrange Pruitt's personal vacations. And on Tuesday, the Post reported that Pruitt had an EPA staffer set up a meeting to help his wife secure a Chick-fil-A franchise.
House Democrats have been calling for Pruitt to be fired for months. Now, Pruitt's ethical woes are leading to calls from conservatives for Trump to fire the embattled cabinet head.
According to Politico, Sen. Joni Ernst (R-Iowa) said at an energy policy forum in Washington on Tuesday that Pruitt is "about as swampy as you get here in Washington, D.C."
"If the president wants to drain the swamp, he needs to take a look at his own Cabinet," she said.
Sen. John Cornyn (R-Texas), a member of GOP Senate leadership, didn't explicitly say Pruitt should be fired, but called Pruitt's behavior a "distraction."
"It's not helpful to be sure," Cornyn told reporters on Capitol Hill. "But, the administrator serves at the pleasure of the president and the Congress really doesn't have a role once confirmation occurs."
The New York Times reported in early May that White House aides have been pushing for Trump to fire Pruitt as well, yet Pruitt remains. Meanwhile, Trump praised Pruitt on Wednesday during a briefing on hurricane preparedness at the Federal Emergency Management Agency's headquarters.
"Thank you Scott, very much. EPA is doing really, really well," Trump said to Pruitt at the meeting.
"Somebody has to say that about you a little bit, you know that, Scott," the president added.
June 8, 2018, 11:17 a.m.: This story has been updated.