We commissioned a mural to drive tourism in my hometown — then small-town politics came into play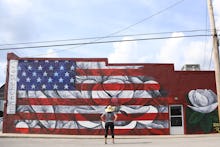 The first day an artist started painting the inaugural public mural in Manchester, Tennessee, a member of the Historic Zoning Commission called the cops on us.
I'd be lying if I said I was surprised. In our six years as residents of this small town, my husband, Scott van Velsor, and I have slowly made progress on bringing money in through tourism, but our efforts have been met with resistance. We're determined to not keep Manchester — which is perhaps best known as the home of Bonnaroo — in a time capsule.
Scott and I moved to Manchester in 2012. I was born in the county, and wanted to plant roots in a smaller town after spending a decade in New York and California after college. We purchased a Victorian gem that had been empty for years. When we inquired about renovation rules, we were told that because we were outside of the technical historic overlay, we could "bulldoze the house for all we care."
That lack of regard and respect for historic buildings in Manchester prompted Scott to get involved with the Historic Zoning Commission. Around the same time, we also found our local tribe: entrepreneurs and activists who weren't afraid to get their hands dirty by doing the hard work it takes to improve the beating heart of the city, its courthouse square.
In 2016, the two of us conceptualized the idea of a citywide mural program as a marketing piece for the city. Manchester sees an influx of up to 80,000 visitors with Bonnaroo each June, but the rest of the year it's an interstate town. Located on the way to a state park (Old Stone Fort), Manchester has boundless natural resources, a large Air Force research facility and it's near a pair of the country's most notable distilleries (Jack Daniel's and George Dickel). But it somehow missed the mark on utilizing its location to drive regional tourism and large business investments.
We figured an eye-catching mural could be one small piece of a much bigger framework to increase tourism dollars in the region, a model we've seen succeed in smaller places such as Brenham, Texas, and Huron, South Dakota, as a way to bring tourists to towns that exist far from the interstates — as well as bigger cities like Lexington, Kentucky, and Miami, with its famed Wynwood Walls.
We floated the idea with various decision-makers around town. No one was opposed to it; in fact, most individuals were enthusiastic about the concept. But structural things in a small town move like molasses, if at all — and every time our idea would gain steam, it was shoved to the back-burner as more pressing items arose.
When it was clear a city-funded route for an installation program would take too long, Scott set out on a mission of old-fashioned, door-to-door fundraising. Though we were frequent mural chasers, this was our first time commissioning such a piece of art, and we estimated we'd need a substantial amount of money for the artist's fee, paint and equipment rentals like scaffolding and a lift. Jim Wheeler, owner of Wheeler Construction, was happy to repaint the old, faded American flag mural he inherited upon purchasing the building; he even offered to chip in financially.
First National Bank of Manchester, helmed by a former vice mayor, stepped in and closed the funding gap. Logistically, we were careful to check all the boxes. Once the zoning committee approved Wheeler's "certificate of appropriateness" to paint the building, we signed a contract with muralist Tara Aversa. The community was ready, so we prepped the wall for painting and rented scaffolding, and Tara started working May 13.
Tara estimated the painting would take five days, weather permitting. What she didn't account for, however, was Historic Zoning Commission vice chairman Evans Baird showing up six hours in and demanding she "cease" painting or he'd call the cops.
"I told him to go talk to Scott van Velsor," she said, "because I'm not stopping."
Half the police force rolled up soon after: burly, heavily armored, friendly and understanding but with some questions. Knowing not only his First Amendment rights but also that he had all the technical approvals for this work, Scott stood his ground. The police left, murmuring approval.
TV and radio news stations, print and social media then began driving the narrative. Branding quickly became an exercise in messaging and fact-checking erroneous online stories about permits with help from our thousands-strong network. There was still a small but vocal group of dissenters who didn't grasp how a grassroots art movement and tourism go hand-in-hand; how Instagram has changed the way the Millennial generation travels and seeks out new places to explore; and, most importantly, how murals can be a relatively easy, quick and cost-effective way to improve a city's aesthetic while injecting economic vitality into an area otherwise primed for tourism.
The commission's acting secretary, Pat Berges, told the local newspaper the issue wasn't the concept of painting the building, but what our community group elected to paint: an American flag and a Southern magnolia.
"It doesn't represent anything," she told the Manchester Times. "It has nothing to do with Manchester history." We encouraged Berges, who said she would have preferred a painting of a horse-swapping event, to connect with a building owner, engage in personal fundraising and commission her own mural. Placing your idea of history on a wall costs money and permission from the person who actually owns the building.
Manchester recently applied for historic designation with the National Registry — which comes with perks like tax credits but also construction restrictions — but was denied.
Bottom line: Is our experience of small-town politics hindering progress a rare one? Doubtful. But there's no denying what public art can do to improve a place, in attracting both tourists who spend their dollars locally as well as potential residents and business investors looking for a dynamic new place to live and work. And if the thousands of social media shares, dozens of newspaper pieces and ongoing broadcast segments about our mural in the past three weeks are any indicator, this guerrilla marketing tactic is already drawing attention to Manchester, though perhaps not as we had originally envisioned.