Mic Daily: Scott Pruitt's latest blunder, the effects of Trump's farm bill on LGBTQ people and more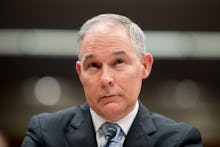 Welcome to Mic Daily: Mic's short, smart email newsletter that cuts through the noise and lands in your inbox every weekday. We carefully curate each edition to send you a cross section of our most impactful, vital, touching stories of the day.
A large percentage of LGBTQ people rely on food stamps. If Trump's bill passes, more will go hungry.
LGBTQ people are disproportionately food insecure — meaning a larger percentage of this group doesn't have enough money to feed their family or themselves, relative to the general population. Research from a 2016 report by the Williams Institute found that 27% of LGBTQ adults — or 2.2 million people — went through a period of food insecurity that year, while a much smaller 17% of non-LGBTQ adults experienced the same.
In the Trump administration's 2018 farm bill proposal, which has yet to successfully pass, LGBT people are even further disadvantaged.
In latest ethical breach, EPA administrator Scott Pruitt enlisted security detail on hunt for lotion
Environmental Protection Agency administrator Scott Pruitt enlisted his security detail to run personal errands for him, asking the taxpayer-funded staff to pick up his dry cleaning and even asking for their help to get him lotion from the upscale Ritz-Carlton hotel, the Washington Post reported Thursday.
The news is just the latest in the growing ethical cloud surrounding Pruitt, for which Pruitt is under investigation by the House Oversight and Government Reform Committee and the EPA's inspector general.
Trump's policy separating kids at border can cause lifelong trauma — we already know this from WWII
In April, the Trump White House rolled out a new "zero tolerance" approach to illegal immigration that requires all migrants found to have entered the country illegally to be prosecuted as criminals. While the adults found in violation of the law are, in most cases, carted off to federal prisons to await their day in court, their minor children are usually taken from them and surrendered to shelters run by the Department of Health and Human Services.
It's a situation that echoes something similar that occurred during WWII — a 1939 program known as "Operation Pied Piper" designed to evacuate children to the British countryside as bombs rained down in urban areas. A study of this time is one of the first known research projects regarding the long-term impacts of traumatic separation of children from their parents — and it's one that modern researchers are using to caution against the damaging consequences of the Trump administration's immigration policies.
Samantha Bee addresses Ivanka Trump controversy: "I want this show to be challenging"
Comedian and late-night host Samantha Bee spoke on Wednesday night about the firestorm of controversy she recently ignited. On the May 30 episode of her show Full Frontal With Samantha Bee, Bee called Ivanka Trump a "feckless cunt" while discussing migrant children being mistreated at the U.S. border — launching a full news cycle about her use of the word and the backlash to it.
This was the second time she apologized — the first came via a post on Twitter.
Google to halt political ads in Washington during election — will the same be done on Facebook?
On Monday, Washington state's attorney general announced a lawsuit that would take Google and Facebook to task for advertisements that affected political elections. Three days later, Google has revealed it will rescind ads that could potentially affect Washington's state and local elections.
So can we expect Facebook to withdraw its ads too? Don't hold your breath.