Stories that pay off: How to save money on everything from rent to dining out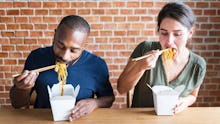 Saving money is easier said than done. But there are some actionable, realistic things you can do to trim your spending in areas both big — like rent or cars — and small — such as hanging out with friends. This week, here's a refresher on some of our favorite tips for keeping extra funds in your bank account.
Negotiating with your landlord might feel intimidating, but it's one way to manage your rent costs. Look into transportation access and market rents to see if you should be demanding a rent decrease or a free month. Read more here.
In 2018, electric and used vehicle prices are anticipated to come down — thanks to a 24% drop in battery price — opening the door to saving more money on a quality ride. And don't forget to consider parking expenses, negotiate insurance savings and stay flexible for the best possible deal. Read more here.
FOMO is causing nearly 40% of millennials to spend money they don't have on social occasions, specifically dining out, travel and buying alcohol. Here's how to set up a budget to cut down on social spending — and how to say a polite "no" so you don't go broke. Read more here.
Sometimes, saving money starts by making sure the money you do have is in the best place. Find out how to get the lowest interest rate possible — and how to break up with a bank that's not working for you. Read more here.