Alice Marie Johnson opens up about her release from prison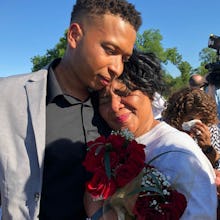 After serving over 21 years of a life sentence in federal prison, Alice Marie Johnson walked free Wednesday following an issue of clemency from President Donald Trump. Johnson's release came just a week after Kim Kardashian West met with Trump in the Oval Office to discuss the case.
Johnson said it was Kardashian West who first told her the good news.
"The moment that I found out that I was going to be free, and I heard my name being paged over the intercom, my case manager told me — he took me right in to make a legal call," Johnson said in an interview with Mic at her sister's house in Southaven, Mississippi, where her family gathered to celebrate her release. "I had no idea what was about to take place, and maybe the second or third person that came to join us on the conference call was Kim Kardashian, and she told me, she asked me, was I ready to go home? I started screaming and crying and jumping. It was a moment that I'll never forget. I'm still replaying that moment in my mind."
Johnson was sentenced in 1996 to life without parole, plus 25 years, for her role in a drug trafficking conspiracy. Upon her release, the 63-year-old great grandmother was greeted outside Alabama's Aliceville Federal Correctional Institution by more than a dozen family members. Her siblings, kids, nieces, nephews, grandchildren and even great-grandchildren waited for her just across the street.
"Oh my goodness, I [felt] like my feet had wings on them," she said. "When I saw my family, if I could have jumped across that highway, I would have jumped across that highway into their arms. That was the best feeling, to finally be able to embrace them the way that I want to, not sitting in a sterile visiting room atmosphere. It was wonderful."
Mic published an opinion video in October in which Johnson made her case for clemency.
"I had 100% clear conduct for the entire time, my entire time in prison, no disciplinary infractions," she said. "I am a true first-time nonviolent offender. Even the prison staff wrote letters about my accomplishments in prison. I had letters from members of Congress, the outside public. Oh my goodness, I had so much support."
But despite meeting the criteria, Johnson's case for clemency had previously been denied on three separate occasions. The morning Mic published her video, she prayed it would reach a massive audience.
"The morning that the op-ed dropped, I was asking God to not only make it viral, but make it super viral," Johnson said. "I believe that when you touch the heart of a people that it makes a difference."
Her prayers seemed to be answered: Her video received more than 10 million views, including one from Kardashian West, who was so moved by Johnson's story that she hired a legal team to support the prisoner's case for clemency.
In May, Mic reported that Kardashian West was in talks with the White House to secure a commuted sentence for Johnson. Her advocacy proved instrumental in Johnson's release Wednesday.
Surrounded by her family, Johnson expressed her deepest gratitude — to God, to Kardashian West, to Trump, and then to her legal advocates and the public at large.
"All of my family is gathered here tonight — family members that I've only talked to on the phone, heard about their birth. It's wonderful," she said. "I want to embrace freedom for just a moment. I just want to breathe this in and take this in and feel it and walk outside."