While You Weren't Looking: 5 stories from the Trump administration that aren't about football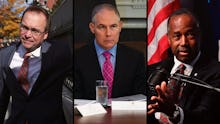 This week was yet another whirlwind of distracting news stories about the president's personal feuds and legal troubles. It began with the controversy over whether 2018 Super Bowl Champions the Philadelphia Eagles would attend a White House ceremony, and is ending with blatantly sexist comments from the president's lawyer about adult film actress Stormy Daniels.
Throughout all of this, major news stories were breaking and developing among the vast federal bureaucracy that went largely unnoticed. Here are a few you might have missed.
A White House national security contractor was arrested on a warrant for attempted murder
In one of the strangest underreported White House stories in recent history, a contractor with the National Security Council has been arrested on an outstanding warrant for attempted murder, according to CBS News.
The contractor, Maryland resident Martese Maurice Edwards, is accused of shooting his ex-girlfriend's boyfriend in Prince George's County, Maryland. Edwards reportedly had a previous assault charge and faced allegations of domestic violence, according to court records reviewed by the Daily Beast.
Despite those allegations, Edwards had obtained security clearance within the White House and was working with one of the most security-sensitive bodies there.
In February, White House chief of staff John Kelly ordered a review of all White House security clearances, after it was discovered that top White House aide Rob Porter had a history of alleged abuse in two previous marriages and had been operating in a key position for months, despite warnings from the FBI.
Trump wants to shrink social safety net programs and change the Department of Health and Human Services
A new report from Politico on Wednesday says that the Trump administration will propose broad new changes to federal social safety net programs and also change the name of the Department of Health and Human Services.
The move would shift programs like the Supplemental Nutrition Assistance Program, commonly known as "food stamps," into the newly renamed agency and out of the Department of Agriculture.
Such a move could have profound implications for the way food stamps are funded. Currently, the program's funding is regularly addressed by Congress in a must-pass piece of legislation known as the "farm bill," which also handles other agricultural issues. If the Trump administration divorces SNAP from the Department of Agriculture, it could reduce the leverage that pro-safety net legislators have in funding SNAP benefits.
It's not clear how the reorganization will impact other social safety net programs like Medicare, Medicaid and Temporary Assistance for Needy Families — all of which are already under HHS's purview.
The new plan will reportedly be released in the coming weeks.
Mulvaney dissolves advisory group required to meet by law
In yet another instance of Trump administration officials appearing to violate standing law, interim head of the Consumer Financial Protection Bureau Mick Mulvaney has reportedly decided to scrap an outside advisory board for the CFPB that is required by law to meet.
Members of the board, which is made up of 25 outside legal experts in consumer protection, were effectively told that they were all fired and that the board would be reconstituted by the current leadership.
Federal law requires that the board meet at least twice annually to advise the consumer bureau. But Mulvaney has reportedly shirked that responsibility, frequently canceling meetings and committing only to one 20-minute phone call with board members.
Bureau spokesperson John Czwartacki told U.S. News and World Report that the group was only interested in "protecting their taxpayer-funded junkets," referring to their biannual meetings. However, several members of the board told the outlet that they were willing to fund their own travel costs.
The moves by Mulvaney appears to be the latest in a series of actions taken to undermine the CFBP's central mission of protecting consumers through enforcement actions against financial businesses.
Carson plan would raise rent for poor families by 20 percent
A Housing and Urban Development proposal aimed at increasing "self-sufficiency" would raise rents for the poorest Americans by 20%, according to a new analysis from the Center on Budget and Policy Priorities.
The analysis examined low-income renters in the nation's 100 largest metro-areas and found that rents would increase by about a fifth each year resulting in rent hikes around six times larger than average wage growth.
The changes proposed by HUD would affect 4 million renters across the country, with half of them seeing an immediate rent hike, and the other half seeing the increases after six years.
Carson has referred to the plan as an "attempt to give poor people a way out of poverty." But the CBPP study suggests that it could actually put millions more people at risk of homelessness.
And all the stuff Scott Pruitt did this week
Less than a week after EPA administrator Scott Pruitt was discovered to be bilking the U.S. government for a set of custom pens at $130 a pop, the list of his questionable activities has grown exponentially longer. The revelations have been so numerous and strange that they have become hard to keep track of, especially as Pruitt's spending habits continue to go unchecked by the Trump administration. Here's a short list of all the things we learned about this week.
• Trump Hotel mattress: In a rather bizarre attempt to save money, Pruitt asked his aides to help him procure a used Trump Hotel mattress for his personal use.
• Godly chicken sandwiches: Pruitt was also discovered to have used his federal office to attempt to help his wife secure a Chik-fil-A restaurant franchise — a move that almost certainly violates federal law. Pruitt laughed off questions about the incident while also not denying the illegal abuse of power boasting that Chik-fil-A is a "a franchise of faith."
• Hotel lotions: According to a report from the Washington Post, Pruitt reportedly asked members of his security detail to run menial tasks for him, including driving around to multiple Ritz-Carlton hotels to find a specific brand of lotion he liked.
• Protein bars and pour-over coffee: The Daily Beast also reported that several aides to Pruitt were frequently sent on errands to procure the EPA administrator's favorite snacks, which included protein bars, greek yogurt, and high-end treats from the upscale baking chain Dean and Deluca. Pruitt also reportedly asked aides to brew him pour-over coffee, which he preferred to the conventional office pot.
• Won't regulate asbestos: The coup de grâce of this week's Pruitt scandals actually had to do with how he runs the EPA. This week, the agency announced it would no longer test the the health risks of deadly asbestos in people's homes. Why? Well it might have something to do with the fact that the president of the United States loves asbestos, thinks its health risks are a mob conspiracy and believes that asbestos would have stopped the towers from falling on 9/11.
• Two aides resign, and one reporter gets name-called: Amid the mounting scandals at the EPA, two top political appointees at the department both resigned from their posts. When the Atlantic's Elaina Plott reached out to the EPA for comment on one of the resignations, spokesperson Jahan Wilcox instead told Plott, "You have a great day, you're a piece of trash."
June 11, 2018, 10:05 a.m.: This story has been updated.