A look back at the life of Anthony Bourdain, chef and television personality, who died at 61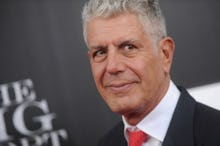 Anthony Bourdain, a chef, TV personality and talented storyteller, has died. Bourdain, who was 61, died by suicide, CNN reported.
"It is with extraordinary sadness we can confirm the death and of our friend and colleague, Anthony Bourdain," the network tweeted. "His love of great adventure, new friends, fine food and drink and the remarkable stories of the world made him a unique storyteller. His talents never ceased to amaze us and we will miss him very much. Our thoughts and prayers are with his daughter and family at this incredibly difficult time."
The author of Kitchen Confidential, Bourdain was most recently working in France for an episode of his CNN TV series Parts Unknown, a show he described as one where he eats and drinks with people "without fear and prejudice. ... [T]hey open up to you in ways that somebody visiting who is driven by a story may not get."
In the most recent season premiere of the show, which was in its 11th season, Bourdain brought viewers to a region not as far away from home as the locations tended to be. In West Virginia, Bourdain spoke with proud gun owners, third-generation coal miners and Appalachian chefs about their hopes, dreams and, of course, most beloved foods. "Here, in the heart of every belief system I've ever mocked or fought against, I was welcomed with open arms by everyone," Bourdain said in the beginning of the episode, which focuses deeply on what it means to live in "Trump country." "I found the place both heartbreaking and beautiful, a place that symbolizes and contains everything wrong and everything wonderful and hopeful about America."
The episode epitomized how Bourdain saw food as the common denominator for human beings; it was the shared, joyful experience that allowed him to explore other perspectives while reserving judgment. While he towered over most at a 6'4, he met people gently, eager to hear their story. Though, by all means, Bourdain was classified as a "celebrity chef," he was readily open about his unglamorous experiences with drug addiction, severe financial debt that he dealt with well into his adult life and his sense of imposter syndrome living a "charmed life." "I should've died in my 20s. I became successful in my 40s. I became a dad in my 50s. I feel like I've stolen a car — a really nice car — and I keep looking in the rearview mirror for flashing lights," he said in an interview with Biography.com.
He stood out from his celebrity with a willingness to talk about everything — topics that many others in his position have strategically steered away from out of a desire to be likable. He was outspoken about his feelings on President Donald Trump. He was vocal about America's opioid epidemic and who's to blame: "These pharmaceutical-company executives are dope dealers, and they should be treated worse and more roughly than dope dealers," he said in an interview with GQ. He defended the #MeToo movement passionately. In a 2017 interview with Mic, Bourdain even blasted the sexist practice of assigning gender to food.
On one particularly cherished episode of Parts Unknown, Bourdain sat down with President Barack Obama in Hanoi, Vietnam, for a meal of bun cha, a Vietnamese dish of grilled pork and rice noodles, some greens and beer — all amounting to $6.
"I will sure as shit remember this trip to Vietnam," he reflected in a piece on CNN. "Not very long ago at all, I was a 44-year-old guy still dunking french fries with no hope of ever seeing Rome, much less Hanoi — much less EVER sitting across from the president of the United States, talking about hot dogs."
(Editor's note: For information about suicide prevention or to speak with someone confidentially, contact the National Suicide Prevention Lifeline at 1-800-273-8255 or the Crisis Text Line at 741-741. Both provide free, anonymous support 24 hours a day, seven days a week.)