Trump calls for Russia to be readmitted to G7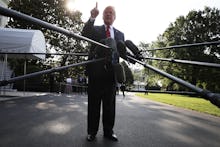 President Donald Trump on Friday called for Russia to be invited back to the G7, telling reporters the country should be at this weekend's meeting of major world leaders.
"Why are we having a meeting without Russia being in the meeting?" Trump said as he departed the White House for the summit in Quebec. "Whether you like it or not, and it may not be politically correct, but we have a world to run."
Russia was booted from the then-G8 in 2014 over its annexation of Crimea, which world leaders condemned as "illegal."
"International law prohibits the acquisition of part or all of another state's territory through coercion or force," former President Barack Obama and other world leaders said in a statement at the time. "To do so violates the principles upon which the international system is built."
Trump's call for Russia to be readmitted to the G7 came amid increasing tensions between the U.S. and key allies, as well as the president's increasingly warmer stance on Russia.
Trump said he was attending the G7 summit to "[straighten] out unfair Trade Deals" with Canada, France and other close U.S. allies, he tweeted early Friday.
In May, the president announced his administration would impose steel and aluminum tariffs on Canada, Mexico and the European Union — all of which announced retaliatory tariffs against the U.S. in recent days. Trump sparred with French President Emmanuel Macron and Canadian Prime Minister Justin Trudeau on Twitter in the lead-up to the G7 summit, which he will leave early to travel to Singapore for his high-stakes meeting with Kim Jong Un.
The French and Canadian leaders have each vowed to address the tariffs with Trump at the summit. Meanwhile, Trump continued to talk tough Friday, even threatening to "terminate" the North American Free Trade Agreement, which he has repeatedly characterized as unfair to the U.S.
"We are not going to live with the deals the way they are," Trump said. "European Union treats us very unfairly, Canada very unfairly, Mexico very unfairly."
Trump's deteriorating relationships with Trudeau and Macron — both of whom he has previously lavished with praise — come as the U.S. finds itself increasingly isolated from key allies over Trump's isolationist policies, including his decisions to pull out of the Paris climate agreement and to withdraw from the Iran nuclear deal.
While he's taken a tougher stance on traditional U.S. allies, Trump — who remains under investigation as part of an inquiry into potential collusion between his presidential campaign and the Kremlin — has charted a warmer course with Russian President Vladimir Putin.
Trump repeatedly praised Putin during the 2016 campaign. He has also refused to condemn the Russian strongman over the Kremlin's interference in the U.S. presidential election, at one point suggesting he trusts Putin's denials of wrongdoing over the findings of his own intelligence agencies. While his administration has hit the country with sanctions over its "malign activity around the globe," Trump himself has appeared reluctant to punish Putin.
Nevertheless, Trump told reporters Friday that he has been "Russia's worst nightmare."
"I think Putin's probably going, 'Man, I wish Hillary won,'" Trump said.