This week in food and travel: Remembering Anthony Bourdain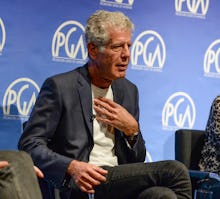 Every industry has its challenges, but this week we've been reminded of how difficult the food world can be, for both everyday restaurant workers and well-known figures. We take a look back at the life of the late Anthony Bourdain and share perspectives from several LGBTQ people in the food industry.
Bourdain saw food as the common denominator for human beings; it was the shared, joyful experience that allowed him to explore other perspectives while reserving judgment. Read more here.
In an industry that's known for hospitality, restaurants and bars can still be uncomfortable places for marginalized individuals. Even a cursory scan of the field tells us out LGBTQ higher-ups are few and far between.
More in food and travel...
"Media portrayals like Will and Grace lead the public to believe that all gay people are white, wealthy and doing just fine, and what we're fighting for is cake at our wedding and not basic human rights and human dignity." Read more here.
The chain restaurant funnels cash back to North Korea — and eating there is an ethical struggle. Read more here.