Trump got his first head in leak-squelching quest after obtaining a reporter's records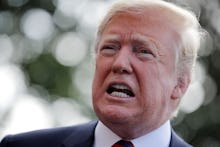 The Department of Justice arrested a former Senate Intelligence Committee aide on Thursday for allegedly lying to federal investigators about whether he leaked classified information to reporters — a move President Donald Trump praised Friday as a "terrific thing."
James A. Wolfe, the former director of security for the Senate Intelligence Committee, was arrested and charged with lying to investigators about multiple contacts he had with multiple reporters. As part of the investigation into Wolfe, the Trump administration seized years' worth of phone and email records from Ali Watkins, a New York Times reporter with whom Wolfe was having a relationship.
According to the Times, this is the first time the Trump administration has sought a reporter's records.
Standards are stricter for the Department of Justice to obtain records from journalists. According to DOJ guidelines, federal investigators may only obtain records directly from journalists "after all reasonable alternative attempts have been made to obtain the information from alternative sources."
Press freedom advocates are crying foul, questioning Friday whether the DOJ followed guidelines on subpoenaing journalists' records. The guidelines were a product of discussions between press freedom advocates and the Obama administration, which led to criticism from media organizations when it undertook a major crackdown on leaks to reporters.
"It certainly seems like the Justice Department may have violated these internal guidelines as part of this case, which require the Justice Department 'exhaust' all other means of investigating before considering directly going after a journalist," Trevor Timm, executive director of the Freedom of the Press Foundation, said in a statement.
Attorney General Jeff Sessions said in August that the Justice Department was "reviewing our policies affecting media subpoenas."
"We respect the important role that the press plays, and we'll give them respect, but it is not unlimited," Sessions said at the time. "They cannot place lives at risk with impunity. We must balance the press's role with protecting our national security and the lives of those who serve in the intelligence community, the armed forces, and all law-abiding Americans."
Trump, who has suggested reporters who publish leaks should go to jail, said Friday of Wolfe's arrest that "reporters can't leak."
"You cannot leak classified information," Trump told reporters gathered at the White House to watch him depart for the G7 Summit in Quebec, Canada. "At the same time, we need freedom of the press. But you cannot leak."
A New York Times spokeswoman warned that the seizure of its journalist's records is a dangerous precedent.
"Freedom of the press is a cornerstone of democracy," the spokeswoman, Eileen Murphy, said in a New York Times article. "This decision by the Justice Department will endanger reporters' ability to promise confidentiality to their sources and, ultimately, undermine the ability of a free press to shine a much-needed light on government actions. That should be a grave concern to anyone who cares about an informed citizenry."
The records seized also came from a period when Watkins worked at BuzzFeed News and Politico. BuzzFeed News Editor-in-Chief Ben Smith tweeted Friday morning that the case around Wolfe seemed to stem from an article Watkins wrote in April 2017 about former Trump campaign aide Carter Page.
"The leak hunt appears to center on our story based in court documents that show Russian spies approaching a Trump adviser, confirmed on record by Carter Page," Smith tweeted. "I'm baffled DOJ would spy on a reporter to keep that secret, or why that should be secret at all."