Mueller files new charges against Manafort and indicts his former associate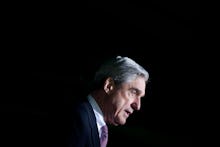 Special counsel Robert Mueller has filed new charges against Paul Manafort and his former aide Konstantin Kilimnik, according to a third superseding indictment filed by Mueller's office Friday.
Manafort, President Donald Trump's former campaign chairman, and Kilimnik, a Russian-Ukrainian political consultant and suspected intelligence operative, were charged Friday with obstruction of justice and conspiracy to obstruct justice.
Manafort is also charged with conspiracy against the United States, conspiracy to launder money, acting as an unregistered agent of a foreign principal, making false and misleading Foreign Agents Registration Act statements, and making false statements to the FBI.
The release of the new superseding indictment comes days after Mueller's prosecutors formally accused the former Trump campaign chairman with attempting to tamper with witnesses in his case.
According to the new charges, Manafort and Kilimnik "knowingly and intentionally attempted to corruptly persuade another person" with "intent to influence, delay, and prevent the testimony of any person in an official proceeding" from Feb. 23 to April of this year.
Feb. 23 is the date that Manafort's longtime associate, Rick Gates, pleaded guilty to two charges stemming from the Mueller investigation.
Manafort, who spent years lobbying for pro-Russian interests in Ukraine before joining the Trump campaign, was already facing a number of charges from Mueller since he was first indicted in October.
Kilimnik, meanwhile, has been referenced in other filings by Mueller, but had not been named by the special counsel's office until Friday.
Mueller is overseeing the FBI's investigation into possible collusion between the Trump campaign and the Kremlin, along with potential obstruction of justice on the part of the president.
Trump has repeatedly characterized the probe as a "witch hunt" and continues to downplay Manafort's role on his campaign. On Sunday, he claimed Manafort "wouldn't have been hired" at all, had the Department of Justice or FBI told him about their investigations.
"Should have told me!" he tweeted Sunday.
Manafort led the Trump campaign during the summer of 2016, but stepped down as his connections to former Ukrainian President Viktor Yanukovych drew a tidal wave of scrutiny. He has since maintained his innocence, even mounting an unsuccessful legal challenge against Mueller's authority.
The pressure against Manafort increased further in February, when Gates cut a plea deal with the special counsel.
Speaking to reporters Friday, Trump left the door open to the possibility of pardoning Manafort, along with his longtime personal attorney and fixer, Michael Cohen, who is also under federal investigation.
"They haven't been convicted of anything," Trump said, telling the media that he hasn't given any thought to the notion. "There's nothing to pardon."
June 8, 2018, 3:12 p.m. Eastern: This story has been updated.