Trump says Kim has a "one-time shot" at peace as he leaves for Singapore summit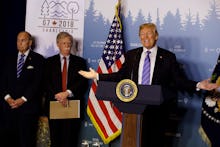 President Donald Trump struck an optimistic tone Saturday as he left the G7 summit early for his high stakes summit with North Korean leader Kim Jong Un, telling reporters that his North Korean counterpart has an opportunity for "lasting peace" when they meet in Singapore next week.
"It's a one time shot, and I think it's going to work out very well," Trump said in a wide-ranging press conference Saturday. "We're going in with a very positive spirit."
Trump gave the comments before departing a contentious G7 conference in Canada, during which he confronted top United States allies over trade and drew scrutiny for calling for Russia to be readmitted to the group of nations — and days before his much-anticipated summit with Kim.
The president on Saturday said that he has a "clear objective" heading into the Singapore summit, but that 'it's going to be something that will always be spur of the moment" because Kim has "never been tested."
"I think that he's going to surprise on the upside," Trump said, adding that it "may not work out."
Asked how he would gauge Kim's openness to denuclearization, Trump said that he would know "very quickly whether or not something good is going to happen."
"I think within the first minute I'll know," Trump said. "Just my touch. My feel. That's what I do."
Trump and Kim spent the bulk of 2017 exchanging personal insults and nuclear threats, but agreed to meet earlier this spring following a strong diplomatic push by South Korea ahead of the 2018 Winter Olympics.
His administration had previously suggested its goal is for Kim to immediately denuclearize, but Trump in recent weeks has appeared to scale back his expectations for the meeting. He's indicated he may support a phased denuclearization plan on the peninsula and, on Saturday, characterized the upcoming summit as part of a process.
"The minimum would be relationship," Trump said of his goals for the meeting. "You'd start at least a dialogue. I'd like to accomplish more than that, but at a minimum we'll have met each other, seen each other. Hopefully we will have liked each other."
In his press conference Saturday, Trump compared what he described as a lack of action on the part of past U.S. leaders on North Korea with the "bad" trade deals they made with key allies, including Canada and France.
"I don't blame other leaders for [the trade deals]," Trump said. "I blame our past leaders."
He had spent the days heading into the G7 summit publicly blasting French President Emmanuel Macron and Canadian Prime Minister Justin Trudeau over trade, and questioned why Russia would not be present at the meeting.
Trump insisted Saturday that the meeting was not contentious, saying that his relationships with allies remained strong, but continued to say that the U.S. had been "taken advantage of for decades and decades" on trade.
"I congratulate the leaders of other countries for crazily being able to make these trade deals that were so good for their countries and bad for the United States," Trump said. "But those days are over."
He also doubled-down on his call for Russia to be at the table with the other seven nations, saying that "something happened a while ago where Russia is no longer in."
When a reporter noted that the "something" Russia was kicked out for was its 2014 invasion of Crimea, he suggested former President Barack Obama was responsible because the annexation occurred while he was in office.
"I may have had a much different attitude," Trump said.
Trump largely stuck to the script during the press conference Saturday, but did veer into his signature attacks on the media after bristling at questions over the brewing tensions between the U.S. and its allies — including a testy exchange in which he called out a "fake news CNN" reporter.
"The U.S. press is very dishonest," Trump said. "There are many people in the press who are unbelievably dishonest."