Trump blasts allies over trade: US is a "piggy bank that everybody's robbing"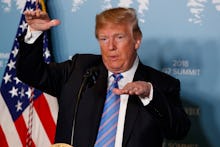 President Donald Trump continued to blast "bad" trade deals with key United States allies as he left the G7 summit in Canada early Saturday, telling reporters that he would "fix" unfair trade relationships or end them.
"We're like the piggy bank that everybody's robbing, and that ends," Trump said in a press conference Saturday. "We're gonna fix that situation, and if it's not fixed, we're not going to deal with these countries."
Trump's apparent threat to end U.S. trade deals with top allies came as he feuded with French President Emmanuel Macron, Canadian Prime Minister Justin Trudeau and other leaders over the trade war he instigated late last month.
In May, Trump hit Canada, Mexico and the European Union with steel and aluminum tariffs as part of an effort to create "FAIR TRADE" agreements with America's partners.
That move was met with criticism at home, including from Republicans, and announcements of retaliatory tariffs from U.S. allies.
Trump blasted both Trudeau and Macron on Twitter ahead of the G7 summit, which he was reportedly wary of attending. He also made controversial comments to reporters calling for Russia, which had been kicked out of the G8 in 2014 over its Crimea invasion, to have its membership reinstated.
Though the U.S. appears increasingly isolated from its allies, Trump on Saturday insisted that his relationships with other leaders remains "great."
But, he said, the U.S. could no longer tolerate "brutal" deals, even threatening to tear up the North American Free Trade Agreement if he didn't get his way.
"We have to have deals that are fair," Trump said.
After calling out Trudeau and Macron before the summit, he took a different approach on Saturday, "[congratulating] he leaders of other countries for crazily being able to make these trade deals that were so good for their countries and bad for the United States" and chastising his predecessors for allowing the U.S. to be taken advantage of.
"I don't blame other leaders for that," Trump said. "I blame our past leaders."
He also defended the wisdom of his controversial tariffs, saying that the U.S. would win a trade war against its allies because "they do so much more business with us than we do with them."
"The U.S. has been taken advantage of for decades and decades, and we can't do that anymore," Trump said.
The tensions surrounding the tariffs underscore what appears to be a growing distance between the U.S. and its allies over Trump's isolationist policies, including his decisions to withdraw from the Paris climate accord in 2017 and the Iran nuclear deal in May.
But Trump said that the notion that the G7 summit was in any way contentious was "fake news," telling reporters Saturday that the conference had been "so wonderful."
"The nations of the G7 are bound together by shared values and beliefs," Trump said. "That came out loud and clear."