This Week in Trump-Russia News: Beg your pardon, but Mueller isn't done with Manafort yet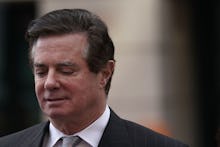 Robert Mueller capped a contentious week in the Russia probe by filing new charges against Paul Manafort, President Donald Trump's beleaguered former campaign chairman.
Manafort — who is already facing charges of conspiracy against the United States, conspiracy to launder money, acting as an unregistered agent of a foreign government and making false statements — is now facing additional counts of obstruction of justice and conspiracy to obstruct justice.
Meanwhile, Trump — who continues to bash the probe as a "witch hunt" — has raised the specter of pardons for Manafort, personal lawyer Michael Cohen and even himself.
Here's what went down in the Russia saga this week.
Manafort's legal woes kept growing
In a superseding indictment filed Friday, Mueller alleged Manafort and his associate — Konstantin Kilimnik — "knowingly and intentionally attempted to corruptly persuade another person" with "intent to influence, delay, and prevent the testimony of any person in an official proceeding" between Feb. 23 and April of this year.
Manafort's longtime aide, Rick Gates, cut a plea deal with Mueller's team Feb. 23.
Manafort and Kilimnik each face counts of obstruction of justice and conspiracy to obstruct justice.
The new charges came days after Mueller's team accused Manafort, who was first indicted in October, of attempting to tamper with witnesses.
Trump has recently sought to put further distance between himself and his former campaign chairman, tweeting June 3 that Manafort "came into the campaign very late" and "wouldn't have been hired" if the FBI or Department of Justice had warned Trump about their investigations.
"Should have told me!" he tweeted.
Trump played up his pardon power
That wasn't Trump's only comment on the Russia probe in recent days.
Indeed, it was another active week for the president on Twitter, where he lashed out at investigators and his political opponents — and suggested he is above the law.
In a torrent of tweets, Trump pressed on with his "Spygate" conspiracy theory, railed against "Crooked" Hillary Clinton and "Slippery" James Comey and continued to publicly humiliate Attorney General Jeff Sessions, whose recusal he again blamed for the "Russian Witch Hunt Hoax."
"So much time and money wasted, so many lives ruined," Trump tweeted Tuesday. "And Sessions knew better than most that there was No Collusion!"
But Trump's most eyebrow-raising statement on Russia this week came when he declared he had "the absolute right to PARDON myself."
It's unclear if he does, in fact, have the ability to pardon himself — in part because no president has ever tried it.
But Republicans, including House Speaker Paul Ryan, publicly cautioned Trump against the idea; Democrats, including Senate Minority Leader Chuck Schumer, accused the president of acting as though he is "above the law."
Trump called for Russia to be readmitted to G8
Trump insisted Friday he is "not above the law," but maintained he could pardon himself — if it were necessary to do so.
"Yes, I do have an absolute right to pardon myself, but I'll never have to do it because I didn't do anything wrong and everybody knows it," Trump said.
Trump made the comment Friday as he spoke to reporters outside the White House before he left for the G7 summit in Canada.
He addressed everything from the death of Anthony Bourdain to his upcoming meeting with North Korean leader Kim Jong Un — but stirred the most controversy when he said, unprompted, that Russia should be invited back to the G8.
The country was booted from the group in 2014 after it invaded and annexed Crimea.
"Why are we having a meeting without Russia being in the meeting?" Trump said. "Whether you like it or not, and it may not be politically correct, but we have a world to run."
That drew criticism from a number of U.S. figures, including Sen. John McCain (R-Ariz.), and seemed to exacerbate already high tensions between Trump and key U.S. allies.
But he doubled down Saturday before leaving the G7 early to meet with Kim in Singapore, downplaying Russia's annexation of Crimea and placing blame on former President Barack Obama.
"We're looking for peace in the world," Trump said. "We're not looking to play games."