Trump pulls out of G7 summit statement, calls Justin Trudeau "weak"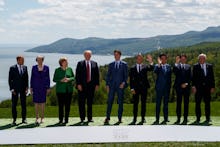 President Donald Trump unleashed a scathing Twitter attack on one of the country's closest allies Saturday, calling Canadian Prime Minister Justin Trudeau "dishonest and weak" just hours after leaving the G7 summit in Quebec.
Trump also backtracked on his previous agreement to endorse the G7 communique, leaving the U.S. off the joint statement released by six other world leaders addressing issues like trade cooperation and Iran's nuclear program.
"Based on Justin's false statements at his news conference, and the fact that Canada is charging massive Tariffs to our U.S. farmers, workers and companies, I have instructed our U.S. Reps not to endorse the Communique as we look at Tariffs on automobiles flooding the U.S. Market!" Trump tweeted Saturday night.
"PM Justin Trudeau of Canada acted so meek and mild during our @G7 meetings only to give a news conference after I left saying that, 'US Tariffs were kind of insulting' and he 'will not be pushed around.' Very dishonest & weak. Our Tariffs are in response to his of 270% on dairy!" Trump added in a second tweet.
During the news conference in question, Trudeau pushed back against the recently announced tariffs on Canadian imports, saying Canada would retaliate with its own tariffs beginning July 1.
"Canadians, we're polite, we're reasonable, but we also will not be pushed around," Trudeau said, as quoted by the Washington Post.
The back-and-forth rhetoric comes after a reportedly tense G7 summit in Canada, as Trump fought with world leaders over trade after recently announcing he would impose steel and aluminum tariffs on Canada, Mexico and the European Union. French President Emmanuel Macron said the summit's trade discussions were "sometimes quite heated," and the New York Times reported Trump "delivered a running monologue" at the closed-door meetings, taking leaders to task on how he believed their countries had "mistreated" the U.S.
"We're like the piggy bank that everybody's robbing, and that ends," Trump said in a press conference Saturday, prior to his decision to withdraw from the communique. "We're gonna fix that situation, and if it's not fixed, we're not going to deal with these countries."
The communique includes statements from the Group of Seven on a range of issues, including climate change and gender equality. The document, however, also included a pro-free-trade message at odds with Trump's new tariffs, declaring: "We acknowledge that free, fair and mutually beneficial trade and investment, while creating reciprocal benefits, are key engines for growth and job creation ... We strive to reduce tariff barriers, non-tariff barriers and subsidies."
In an interview on CNN's State of the Union on Sunday, White House economic adviser Larry Kudlow, who attended the G7 trade meetings alongside Trump, pointed to the upcoming U.S.-North Korea summit Tuesday as part of the reason Trump decided to withdraw from the communique, suggesting the president did not want to look weak as he prepares to meet with North Korean leader Kim Jong Un.
"[Trump] is not gonna let a Canadian prime minister push him around ... on the eve of [the North Korea summit]," Kudlow said. "He is not going to permit any show of weakness on the trip to negotiate with North Korea."
Trump's decision to pull out of the communique was met with criticism by U.S. politicians on both sides of the aisle. Senate Minority Leader Chuck Schumer (D-N.Y.) asked on Twitter whether the U.S. was "executing Putin's diplomatic and national security strategy or AMERICA's diplomatic and national security strategy?" Meanwhile, Sen. John McCain (R-Ariz.) delivered a message to U.S. allies.
"To our allies: bipartisan majorities of Americans remain pro-free trade, pro-globalization & supportive of alliances based on 70 years of shared values," McCain wrote on Twitter. "Americans stand with you, even if our president doesn't."