Today in Trump's America: Trump has high-stakes meeting with Kim Jong Un, after blasting US allies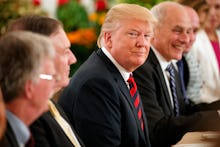 Welcome to Mic's daily read on Donald Trump's America. Want to receive this as a daily email in your inbox? Subscribe here.
Good morning from Emily Singer at Mic.
Here's what's happening in Trump's America:
• Trump is in Singapore for his summit with North Korean leader Kim Jong Un. Before the meeting with Kim, Trump sat down with Singaporean Prime Minister Lee Hsien Loong and then greeted staff from the U.S. Embassy in Singapore. Given the time difference, most of these events took place in the very early hours of Monday morning in the U.S.
About the weekend: Alienating allies
Trump spent the weekend feuding with Canadian Prime Minister Justin Trudeau — the leader of one of America's best and oldest allies — after meeting with Trudeau and other world leaders at the G7 summit in Canada.
Trump's feud with Trudeau came days before Trump was set to sit down with North Korean leader Kim Jong Un. The fact that Trump had nicer things to say about a hostile power like North Korea than he did about the leader of one of America's oldest and strongest allies has raised eyebrows and brought criticism upon the White House.
Trump's rage against Trudeau was sparked by a news conference the Canadian Prime Minister gave after hosting the G7, in which Trudeau said that while Canadians are "polite" and "reasonable," they "will not be pushed around" by Trump and his tariffs.
Those comments sent Trump into attack mode. He fired off angry tweets in which he called Trudeau "dishonest" and "weak." He also sent members of his administration onto the cable news shows to bash Trudeau Sunday morning. Peter Navarro, a top White House aide focused on trade, said on Fox News that there's a "special place in hell" for Trudeau, whom he accused of engaging in "bad faith diplomacy."
Larry Kudlow, Trump's top economic adviser, went on CNN Sunday morning to accuse Trudeau of stabbing the Trump administration in the back — a confusing allegation to those who were there and watched Trudeau's news conference.
Suffice it to say, Trump's attacks were not taken well in Canada.
"Big tough guy once he's back on his airplane," Roland Paris, a former Trudeau foreign policy aide, tweeted. "Can't do it in person, and knows it, which makes him feel [weak]. So he projects these feelings onto Trudeau and then lashes out at him. You don't need to be Freud. He's a pathetic little man-child."
And a flurry of criticism is now raining down on Trump from Democrats and diplomats.
"So the administration is now suggesting the CANADIAN LEADER, one of our closest allies, should be condemned to the worst form of eternal damnation??" Sen. Tim Kaine (D-Va.) tweeted Sunday. "Talk about thin skinned. These paper tigers like to dish it but just can't take it."
And Richard N. Haass, president of the Council on Foreign Relations, said Trump's attacks on Canada could actually weaken his negotiating position in the North Korea summit.
"The unraveling of G-7 summit works in NK's favor as @realDonaldTrump will not want to bust up 2 summits in a row lest people conclude he is the problem," Haass tweeted Sunday. "Increases incentive for Kim to up his asks and limit his compromises and for Trump to do the opposite. Hardly the ideal context."
Few Republicans, however, came forward to condemn Trump's attacks on Trudeau.
Republicans who did speak out include both Arizona GOP Sens. John McCain and Jeff Flake.
"Fellow Republicans, this is not who we are. This cannot be our party," Flake tweeted in response to Navarro's attacks on Trudeau.
Today in Trump's America: Trump to meet with Kim Jong Un
It's a big day for Trump, as the high-stakes summit scheduled with the unpredictable North Korean leader is set to take place Monday evening in the U.S., which is Tuesday morning in Singapore.
The meeting is a historic first: An American president has never sat down for talks with a North Korean leader, according to the New York Times. Trump faces immense pressure to come out with a win for the U.S., which Trump himself has set as getting North Korea to denuclearize.
Trump's feud with close allies such as Canada now raises the bar even further. If Trump is seen as being more collegial with Kim — a dictator known for brutally oppressing and murdering his own people — than he was with leaders of democratic nations, the president will face even more criticism.
Trump has also publicly said he didn't prepare for the meeting, which could lead him to give more concessions to North Korea than he realizes and exit the meeting embarrassed.
With the time difference, it will be late when Americans learn what exactly transpired between Trump and Kim. Expect a busy Tuesday morning of news when details of the meeting start trickling out.
Capitol Hill happenings: Can Republican leaders avoid an immigration embarrassment?
House Republican leaders have been trying to come up with a deal to avoid an unpredictable and public immigration debate on the House floor this week, thanks to a group of moderate Republicans who have been trying to force a debate using what's known as a "discharge petition."
The petition has received nearly enough signatures to force a vote on codifying the Deferred Action for Childhood Arrivals (DACA) program into law. DACA shields undocumented immigrants who were brought to the U.S. as minors from deportation. The moderates are frustrated with their party's inaction on DACA and want Speaker Paul Ryan to allow for a series of votes on immigration proposals on the House floor.
The problem for Republican leaders is that any immigration bill that Trump would even consider signing — which would include cuts to legal immigration — has no chance of passing the House. Instead, the most likely piece of legislation to emerge from the chamber would be a compromise bill backed by Democrats in the chamber and the handful of Republican moderates.
The GOP leaders fear a bill supported by Democrats and a small minority of Republicans would anger GOP base voters, which hold a more hardline anti-immigrant view.
Republicans met Thursday to hammer out a deal between the moderates and conservative Republicans in the House. However, with no deal imminent, it looks like the discharge petition will reach the number of signatures on Tuesday needed to force a vote.