Pro Tips: What a frequent solo traveler wants you to know before your first trip alone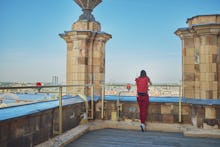 There are plenty of reasons to travel alone. You're in complete control of the itinerary, with no objections. So if you want to laze on the beach for 18 hours or taste every single croissant a city has to offer, that's your prerogative.
There are some less overt benefits to solo travel that you may unearth only after going on a trip or two. For one, going out into the world alone can strengthen your tenacity. "You begin to build this wonderful self-confidence," Stephanie Rosenbloom, New York Times columnist and author of the recently published book, Alone Time: Four Seasons, Four Cities, and the Pleasures of Solitude said in a phone interview. "It's one thing to read books and learn wonderful maxims to boost yourself up, but it's another thing to be able to do a thing and look over your shoulder and remember how you figured out a situation on your own." That exact self-confidence booster is different for everybody; maybe you figure out how to navigate a city's subway system, or you decide to eat alone in a restaurant for the very first time. "The more you do things like that, the less you need to talk yourself up for it in the future," Rosenbloom said.
"When you're alone, you pick up on life's beautiful moments."
Beyond the confidence boost, Rosenbloom said that "in the process of just navigating the world on your own, you pay more attention." When you travel with a group of people, you're enjoying their company and conversation — "and that's wonderful and essential for our health and happiness," Rosenbloom said. "But when you're with them, you miss lots of things in life — everyday details that are really beautiful but escape us. When you're alone, you pick up on life's beautiful moments. You appreciate the way a light wind feels in the springtime, or the way somebody is walking down the street with their dog."
Rosenbloom has been traveling the world alone, for work and play, for more than a decade. If you're considering taking the plunge on a solo trip, these tips from Rosenbloom will ensure you're being smart when it comes to packing, budgeting and unplugging.
Start with a baby step
You don't necessarily need a passport for your first solo trip. Rosenbloom said she first dipped a toe into solo experiences when she started traveling on her own for work. In fact, she said attending conferences is a great initiation for doing things alone. "[Attending conferences] is a really great way to get your feet wet," she said. "Everything is set up for you and you're in workshops where there's already a topic to talk about with the person next to you."
If conferences aren't your thing, consider booking a hands-on class during your solo journey. "When you're alone, you can choose something that's special to you," Rosenbloom said. Make time for a pottery class or sign up for a surf lesson: Doing so will place you with like-minded strangers with whom you already share something. "It's a really great way to expand your circle while pursuing the things you really love doing."
Manage your expectations
Here's a public service announcement from Rosenbloom: The first trip you take alone isn't how every solo trip to follow will be. "I wouldn't judge the whole thing off your first trip — it becomes very different over time," Rosenbloom said. On your first trip alone, the only person you may feel comfortable striking up a conversation with may be the bartender. You may not visit every attraction on your list because you get lost. Whatever the issue is, try not to be so hard on yourself. Every adventure will be different and will teach you something new about yourself. That's priceless.
Pack light and pack right
"I do not check luggage," Rosenbloom said. Everything she packs in her carry-on is black so that she can dress casually with the ability to elevate her look when the occasion strikes. "It makes my life a whole lot easier," she said. Rosenbloom advises against checked luggage for two reasons: First, waiting for your bags at the carousel can cut into precious exploration time. Second, "It's not fun to lug a lot of stuff around when you go somewhere," she said. "There is this feeling of being encumbered by your bags, and you're just happier when you have less to carry." Packing light means you'll be able to move with more freedom. If you want to take the local metro system rather than shell out for a cab, she explained, it'll be easier to navigate with a light pack.
When traveling alone, Rosenbloom said one of her favorite activities is to walk. "It's my favorite way to see the city — it's a wonderful way to feel part of it all," she said. Because she's likely to clock several miles in a single day, Rosenbloom never travels without Injinji toe socks: Every toe is separate, which she says helps to prevent blisters, and the backs are equipped with a little gel tab, which can keep ankles from chafing against your shoes. The socks also come several varieties, which helps Rosenbloom find foot comfort whether she's walking in the heat or in colder temps.
Budget for things you don't pack
In order to pack light, you might need to forgo some items. The truth is, you don't need to live without toothpaste, you can just buy it post arrival. Rosenbloom says this trick is location specific: It works when you're going to a major city, like Paris, but isn't logical for more remote destinations, or if your plane lands in the middle of the night.
"In Paris, the pharmacies are legendary and they have so many great products — it's not even worth bringing lotions," said Rosenbloom, who always makes a point to do a little skincare shopping when in France's capital. Stopping in to a foreign grocery store or pharmacy is "part of immersing yourself in the culture," Rosenbloom said. "It sort of makes you feel like you're living there." She noted that she has friends who make a point of trying new toothpastes from all over the world.
Slow down and unplug
Phones definitely come in handy, especially when navigating a new city. But they're also a portal to other people's moments: If you're constantly scrolling through social media, you're spending your solo time looking at what other people are doing, and not doing things yourself. Rosenbloom said that while she doesn't always go completely off the grid, she will go on social media detoxes on her getaways. She'll let certain people know that she may be hard to get ahold of before she jets off. She also recommends choosing a few people to check in with, at predetermined times, if the idea of going completely unconnected is uncomfortable to you.
One of the great things about traveling alone is that you don't have to abide by anyone else's to-do list. Your time is your own. Since, for most of us, this opportunity is so rare, consider relishing your abundance of time by not doing much. Rosenbloom encourages people to slow down. "It's about being where you are, and realizing that in a city you don't have to go running from one must-see attraction to the next," she said. "You can just sit by the water, or in a cafe, and watch people go by. When you do less, time expands." The author said that when we try to fill our days to the brim, "We go a little blind to everything wonderful that's going on around us." Your solo trip — whether its in a foreign country or a quick day trip — is an opportunity to tune in to the things that grab your attention, and learn more about what you love.