Mic Daily: ACLU calls Supreme Court decision a "setback," Robert De Niro's Trump outburst and more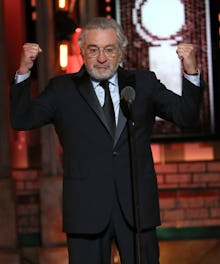 Welcome to Mic Daily: Mic's short, smart email newsletter that cuts through the noise and lands in your inbox every weekday. We carefully curate each edition to send you a cross section of our most impactful, vital, touching stories of the day.
Supreme Court rules in favor of Ohio voter purge in what ACLU calls "setback for voting rights"
The Supreme Court on Monday ruled that the Ohio secretary of state had the right to purge voters from rolls in his state for not having voted in an election for four or more years.
Voting rights advocates are furious about the decision, saying on Monday that it disenfranchises voters.
Where are all the queer CEOs?
Visible out CEOs, such as Apple's Tim Cook and former Burberry CEO Christopher Bailey, are still rare and mostly white men. Trans entrepreneur and neuroscientist Vivienne Ming says the dearth of nonwhite CEOs is due to the "tax on being different." Here's an overview of the state of queer corporate America — and what the future might look like.
Victims of domestic and gang-related violence no longer eligible for asylum, Jeff Sessions announces
Attorney General Jeff Sessions on Monday announced that victims of domestic violence or gang violence will "generally" no longer be eligible to apply for asylum in the United States, overturning an Obama-era precedent that will impact tens of thousands of would-be immigrants.
Robert De Niro got bleeped — and got a standing ovation — for saying "F*ck Trump" at the Tonys
Actor Robert De Niro took the stage at the 72nd annual Tony Awards Sunday night to introduce his friend Bruce Springsteen — but his introduction took a slight detour. American viewers watching the Tonys at home only heard silence — the broadcast on CBS bleeped De Niro's expletive-heavy intro — but they saw the audience's largely enthusiastic reaction.
An unbleeped version aired in Australia, according to viewers.
Bonus: Mic is on Snapchat Discover (Yay!)
Here's our first foray into the world of Snapchat Discover, which chronicles the story of Kim Kardashian West's role in President Donald Trump's freeing of Alice Johnson, who was given a life sentence without parole for a first-time, nonviolent drug offense.
We'll be bringing you fresh stories on Snapchat every weekday. Click here to subscribe.