Victims of domestic and gang-related violence no longer eligible for asylum, Sessions announces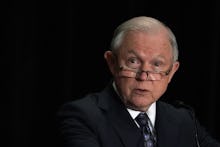 Attorney General Jeff Sessions on Monday announced that victims of domestic violence or gang violence will "generally" no longer be eligible to apply for asylum in the United States, overturning an Obama-era precedent that will impact tens of thousands of would-be immigrants.
"Generally, claims by aliens pertaining to domestic violence or gang violence perpetrated by non-governmental actors will not qualify for asylum," Sessions wrote in a policy memo.
"While I do not decide that violence inflicted by non-governmental actors may never serve as the basis for an asylum or withholding application based on membership in a particular social group, in practice such claims are unlikely to satisfy the statutory grounds for proving group persecution that the government is unable or unwilling to address," Sessions added. "The mere fact that a country may have problems effectively policing certain crimes — such as domestic violence or gang violence — or that certain populations are more likely to be victims of crime, cannot itself establish an asylum claim."
Sessions said he made the decision in order to try and reduce the backlog of immigration-related court cases.
In the U.S., foreign nationals can qualify for asylum if they are able to establish that they would be persecuted in their home country based on their religion, race, nationality, political beliefs or "membership in a particular social group." That last category often included domestic violence victims and victims of gang violence.
The decision is counterintuitive for the Trump administration, which is at the same time claiming that violence by the Central American MS-13 gang is one of the most pressing and dangerous issues of our time, but then not allowing victims of MS-13 violence to apply for asylum.
The decision is already sparking outrage from Democrats, who have been slamming the Trump administration for separating families of undocumented immigrants when they cross the border.
"The Trump Administration just responded to mass outrage over its family separation policy ... by announcing it would deny asylum to victims of gang violence and domestic abuse," Rep. Don Beyer (D-Va.) tweeted. "The Trump immigration approach is increasingly defined by immorality and depravity."