Today in Trump's America: Even Republicans are panning Trump's summit with Kim Jong Un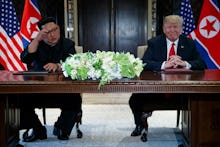 Welcome to Mic's daily read on Donald Trump's America. Want to receive this as a daily email in your inbox? Subscribe here.
Good morning from Emily Singer at Mic.
Here's what's happening in Trump's America:
• Trump is on his way back to the U.S. from Singapore, where he met with North Korean leader Kim Jong Un.
About last night: Trump gives up major concessions to North Korea
The long-awaited summit between Trump and North Korean leader Kim Jong Un is now over, and experts will begin to discern what both sides achieved from the historic meeting.
Trump and Kim signed a document in which Kim committed "to work toward complete denuclearization of the Korean Peninsula," and Trump "committed to provide security guarantees" to North Korea.
However, the document had few, if any, details about what that means. North Korea agreed to similar denuclearization language back in 2005, and, as we obviously know now, never followed through.
Later, during a freewheeling news conference — Trump's first since January 2017 — Trump admitted the U.S. agreed to stop joint military exercises with South Korea on the Korean Peninsula. Trump called the military exercises "war games," and said they were "very provocative." Trump also suggested that while pulling U.S. troops from South Korea was "not part of the equation right now," he suggested that could be coming in the future.
Experts say those are major concessions without any reciprocal concrete concessions from North Korea.
"Post-presser, let's just say it: Trump is a dove on North Korea," Robert E. Kelly, a political science professor at Pusan National University in South Korea — infamous for having his kids crash his BBC interview — tweeted. He continued:
There is nothing "strong" about the following: 1. Gave the summit for nothing. 2. Ducked human rights. 3. Gave up [military exercises] with S Korea for no concrete concession. 4. Declared desire to remove [United States Forces Korea], also for nothing reciprocally defined. 5. Kicking around a peace treaty, also tied to no specific concession. [6]. Criticized SK as cheap-skates, bc Guam-based bombers are costly. Apparently jet-fuel is so expensive, it's worth casting aside a 60-year ally and friend. (Try to imagine Fox's response if Obama had said something that petty.)
In a news conference following the meeting, Trump also declined to forcefully condemn North Korea's human rights violations — which are horrifying both in their nature and scope and include mass killings at forced labor camps, rape and forced abortions, among many other atrocities.
"I believe it's a rough situation over there. It's rough in a lot of places, by the way, not just there," Trump said at a news conference when asked about whether North Korea's human rights violations are worse than any place on Earth.
And Trump ultimately concluded that he may not actually be able to trust Kim after all.
"I may be wrong, I mean I may stand before you in six months and say, 'Hey, I was wrong,'" Trump said at the news conference.
Still, don't expect Trump to ever cop to being wrong about trusting Kim.
"I don't know that I'll ever admit that, but I'll find some kind of an excuse," Trump added.
Today in Trump's America: Reaction rolls in to Trump's North Korea summit
Trump has embarked on a 25-hour journey back to Washington, D.C., and as his plane crosses the globe, talking heads will spend Tuesday reacting to his meeting with Kim.
So far, even Republicans are tepid in their response to Trump's meeting, with some Republicans going all in on their criticism of Trump — who they say legitimized a murderous dictator without getting any concrete concessions from Kim.
"Disconcerting to say the least to see POTUS shaking hands with the thug Kim Jong Un and saying he's 'honored,'" Brit Hume, a Fox News pundit, tweeted. "Will only be worth it if Mike Pompeo is right about what he sensed in his NK meetings. We'll know soon enough."
Steve Schmidt, a Republican strategist who has been critical of Trump, said the meeting was a failure.
"Claims of achievements from this summit are nonsensical," Schmidt tweeted. "Trump got nothing except empty promises. Kim Jong Un achieved global standing for his evil regime and got military exercises cancelled. The sycophantic panting and exultations across the GOP and Trump media are delusional"
Erick Erickson, a GOP pundit, also criticized Trump's behavior during the summit, in which Trump was buddy-buddy with a dictator who is hostile to the U.S., but criticized Canadian Prime Minister Justin Trudeau, who is the leader of one of America's best and oldest allies.
"If Obama had had the last 24 hours that Trump has had, the GOP would be demanding his impeachment," Erickson tweeted.
Democrats are also critical of Trump's meeting.
"What did we get? Do we get something later? Because it looks like KJU got all the stuff. Does our stuff get announced in a few months?" Sen. Brian Schatz (D-Hawaii) tweeted.
"Why do I feel this has been one ballyhooed, expensive, bi-lateral con job," Rep. Steve Cohen (D-Tenn.) tweeted.
Expect similar reaction throughout the day.
And the rest…
Primaries: Tuesday night brings yet another slate of primary contests. Races to watch include:
• Both the Democratic and Republican primaries in Nevada's open gubernatorial contest.
Asylum: Attorney General Jeff Sessions announced that victims of domestic and gang-related violence are no longer eligible for asylum claims in the U.S. The decision to bar these victims from seeking refuge in America comes at the same time Trump is focusing on the Central American gang MS-13 as one of the biggest problems in the U.S.
Get well soon: Larry Kudlow, Trump's new-ish top economic adviser, suffered a mild heart attack, the White House said Monday night. "Earlier today National Economic Council director and assistant to the President Larry Kudlow experienced what his doctors say was a very mild heart attack," White House press secretary Sarah Huckabee Sanders said in a statement. "Larry is currently in good condition at Walter Reed National Military Medical Center and his doctors expect he will make a full and speedy recovery. The president and his administration send their thoughts and prayers to Larry and his family."