Pro-Confederate Republican Corey Stewart wins GOP nomination for Senate in Virginia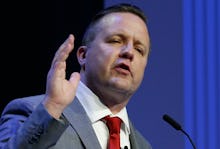 Corey Stewart, a Republican who is a staunch supporter of the Confederate battle flag and monuments, won the GOP nomination for Senate in Virginia Tuesday night.
Stewart defeated state Rep. Nick Freitas and conservative minister E.W. Jackson for the chance to take on Sen. Tim Kaine, the Virginia Democrat and former 2016 vice presidential nominee. Stewart won with 44.7% of the vote, with Freitas coming in a close second with 43.2%, according to the Associated Press.
Stewart's embrace of the Confederate battle flag and monuments to Confederate leaders — even after the violent and racist rally in Charlottesville in August — likely puts this seat even more out of play than it already was.
Over the past decade, Virginia has rapidly changed from red to purple, and now a bright hue of blue. Democrats have held both of the state's Senate seats since 2009, and the gubernatorial mansion since 2014. At the presidential level, Democrats carried the state in 2008, 2012 and 2016, when Hillary Clinton (along with her running mate Kaine) won the state by 5.4 points.
Stewart ran for governor in Virginia in 2017, losing the GOP primary to Ed Gillespie — who went on to be defeated in a landslide by now Democratic Gov. Ralph Northam. During that election, Stewart railed against those who wanted to remove Confederate monuments and imagery from Virginia.
"Nothing is worse than a Yankee telling a Southerner that his monuments don't matter," Stewart said in April 2017.
"Folks, this is a symbol of heritage, it is not a symbol of racism, it is not a symbol of slavery," Stewart said in 2017, standing next to a large Confederate battle flag. "I am proud to be here with this flag."
The Virginia Senate race is rated a "Solid Democratic" contest by the nonpartisan political handicapping website Inside Elections.
June 13, 2018, 10:33 a.m.: This story has been updated.