If you didn't Instagram your vacation, were you really there? One writer finds out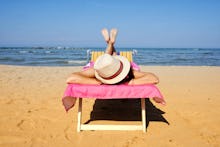 On a recent trip, I was determined to experience Nevis for the place I'd been told it was: a sleepy Caribbean vacation spot where you could entirely disconnect. And I wanted to experience it without my face glued to my phone. The only obstacle? I'd never been to the island and wanted to document the trip. So I set some ground rules: No emails, Instagram, Facebook, WhatsApp or Twitter. My phone could only be used for taking photographs, which I committed to not posting on any kind of feed until I returned to New York. Had I not forgotten my camera at home, I would've turned off my phone and tucked it at the bottom of my bag for the entirety of my trip.
Even for those who want to completely unplug on vacation, going device-free isn't always feasible. In my case, I wanted to use my phone to take photos. Maybe you need your phone for its map app. Whatever the need, it's easy to selectively disconnect from distractions while keeping the bare minimum.
According to James Roberts, author of Too Much of a Good Thing: Are You Addicted to Your Smartphone? one way to limit distraction is to turn off all unnecessary notifications and switch your phone to silent. Studies show that those seemingly innocuous notifications contribute to feelings of stress and, in some cases, an increase in heart rate. When your device sends a notification, the temptation to check your phone skyrockets — and all of that sounds like anything but a peaceful vacation. Be mindful about which programs you absolutely need during your time away, and which ones you could use a hiatus from.
I selected a precise moment where I could actively disconnect and exit all apps (except for the camera). I didn't do this on the plane — with two flights and a connection through San Juan, my plan was to get everything done before switching off. I did it the moment I boarded the boat from St. Kitts to Nevis — as the captain handed me an icy beer and said, "Sit back, relax. We'll get to Nevis in 15 minutes." When I ordinarily would've uploaded an image of the ocean or the getaway boat, I tucked my phone into my bag, inhaled the heady tropical air, took a swig of cold beer and watched as the lights of St. Kitts faded into darkness. Goodbye St. Kitts, goodbye social media. 
Roberts suggested using an screen-time tracker app like Moment to help limit the amount of time spent on social media or other phone activities causing an imbalance in your life. Using something like Moment before you leave for your trip could be a good way to see which apps you could most use a vacation from.
Arriving on Nevis at Montpelier, a small boutique hotel on a former sugar plantation, my no-phone anxiety hadn't yet sunk in. (Editor's note: The author's accommodations were provided by Montpelier.) Frankly, it was the last thing on my mind. When the manager greeted me wearing a cotton kaftan and sandals, all I could think was how I, too, wanted to be in a kaftan and sandals. Free from my sneakers making my feet swell and my jeans clinging to my legs. Free from the demanding vortex that is my phone. The manager directed me to my room where a bottle of red wine and a platter of cheese awaited. I sat on the stoop in the warm night air, closed my eyes and listened to the far-off sound of the ocean.
The following morning, when I awoke to a fan whizzing above my head and the sound of tropical birds, my first reaction was to to grab my phone and check my emails (as a freelance writer, email is my Achilles heel). Fortunately, I'd strategically left it on the other side of the room, as Roberts had suggested. "Research suggests that the blue light can interfere with our production of melatonin that helps us fall asleep," Roberts explained in an email. So I slumped back into my pillow, opened the book I'd been flirting with for the past few weeks and consumed almost a third of it. I only thought about my emails twice. 
For me, my visit to Montpelier was about settling into a couch in the giant living room and devouring a magazine, or lying by the pool and being coaxed to sleep by Bob Marley's voice. The fact that there are no walls covered in banana palm paper or dusty pink velvet couches with gold-rimmed tables beside them made me appreciate that nothing looked made for Instagram.
If you find yourself inclined to take pictures of your hotel — nothing wrong with that — think about how and when you decide to share them rather than mindlessly uploading. Why post them on vacation, when you can post them at home? Roberts said that the act of instant sharing may suggest that we're "more interested in showing off to others than actually experiencing the scenery and those with us."
One way to stay present is to ask for help: If you're vacationing with others, ask someone to keep you accountable, Roberts said. "We always do better when we have others to help us." Roberts explained that snapping photos to instantly share with the virtual world is a detrimental trade-in: "Smartphones don't allow us to be in the moment. Essentially we trade a string of momentary pleasures for more meaningful experiences."
After two full days of no social media and email, I felt as though I'd actually achieved that string of the meaningful experiences Roberts described. I felt so entirely disconnected, I fell asleep on the sun lounger countless times, I finished my book and started a new one. At every mealtime, swim session and sunset, I felt entirely present. I didn't care what was going on in my Instagram feed, nor what emails were filling my inbox. I only cared about the fresh papaya and homemade yogurt at breakfast and swimming three times a day, minimum.
By the time I left the island, for the first time in ages I felt like I'd had a real vacation. When I landed at JFK, I still had sand in my shoes. And although I knew the sand would be washed off and the carefree, disconnected feeling wouldn't last forever, I did institute a ground rule from that day on: I'll never again sleep with my phone next to my bed. On vacation I'd learned about a new peaceful moment that exists during the time after I wake up and before I check my emails, and that's a feeling I hope to relish for mornings to come.