Mic Daily: Mitch McConnell's legacy of obstruction, Trump's meeting with Kim Jong Un and more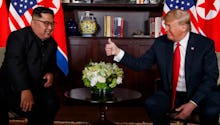 Welcome to Mic Daily: Mic's short, smart email newsletter that cuts through the noise and lands in your inbox every weekday. We carefully curate each edition to send you a cross section of our most impactful, vital, touching stories of the day.
How Mitch McConnell blew up norms to become the longest-serving Senate GOP leader
On Tuesday, Senate Majority Leader Mitch McConnell became the longest-serving member of the Senate Republican Conference, having held the position for more than 11 years. So far, he has created a legacy of blowing up political norms, molding the courts in his party's favor and blocking major legislation.
"This could be the worst scenario": South Koreans skeptical but hopeful after Trump-Kim summit
After President Donald Trump's meeting with North Korean leader Kim Jong Un, experts are split on what the future holds.
The summit went incredibly well, or terribly — it just depends on who you ask. North Korean human rights advocates are likely the most disappointed; despite repeated questions from reporters, Trump only vaguely stated he mentioned human rights abuses to Kim and said "nuclear is always No. 1."
The future of voting? Maine's ranked-choice voting primary is an ambitious test
Maine residents are heading to the polls on Tuesday will be participating in the state's first election since it completely upended its system of voting, in an ambitious experiment that could become a model for the nation — or a cautionary tale.
In this new system, voters will select multiple candidates and rank them by order of preference, instead of simply choosing one preferred candidate.
Pro tips: What a frequent solo traveler wants you to know before your first trip alone
There are plenty of reasons to travel alone. You're in complete control of the itinerary, with no objections. So if you want to laze on the beach for 18 hours or taste every single croissant a city has to offer, that's your prerogative.
We talked with Stephanie Rosenbloom, New York Times columnist and author of the recently published book, Alone Time: Four Seasons, Four Cities, and the Pleasures of Solitude for tips on how to make the most out of your first solo trip.
Video: Interracial couple reflects on Loving v. Virginia
Tuesday marks the 51st anniversary of the Supreme Court case Loving v. Virginia. The case was brought by Richard Loving, a white man from Virginia who was sentenced to a year in prison for marrying Mildred Loving, an African-American and Native American woman.
Now, every year on June 12, couples across the country celebrate Loving Day in honor of the landmark case ending a ban on interracial marriage.
Kyle Lierman and Amanda Brown Lierman are one of those couples. They spoke with Mic on why this day is especially significant to them.