Fyre Festival founder Billy McFarland hit with two new criminal charges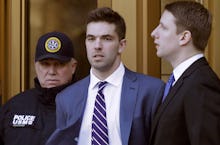 Billy McFarland, the disgraced entrepreneur and Fyre Festival founder, will be charged Tuesday afternoon on two additional criminal charges, one count of wire fraud and a second of money laundering, by the U.S. District Court for the Southern District Court of New York.
The allegations come on top of criminal charges filed against McFarland in 2017 for his involvement in the Fyre Festival, the well-publicized music festival that was supposed to take place in the Bahamas earlier that year.
In the aftermath of the festival, Mic revealed the details of what McFarland and other executives at the company knew ahead of the festival.
The additional charges against McFarland came while he was awaiting sentencing for charges associated with the festival, which he pleaded guilty to in March after initially pleading not guilty, and for which he faces eight to 10 years in jail. The sentencing hearing was scheduled for later in June.
The charges were first revealed by the Associated Press Tuesday.
According to a court filing, McFarland set up a "sham ticket-selling business for exclusive events through a company controlled and operated by McFarland ("NYC VIP Access")."
The filing alleges that McFarland "perpetrated a scheme to defraud attendees of the Fyre Festival and others by soliciting them to purchase tickets from NYC VIP Access to exclusive events when, in fact, no such tickets existed."
McFarland allegedly engaged in a scheme to sell fake tickets to concerts and sporting events, including events like the Met Gala and Burning Man. Additional details of the scheme were revealed in a VICE News story earlier Tuesday, before the charges were filed.
The FBI Assistant Director-in-Charge William F. Sweeney Jr. said in a statement when the indictment was unsealed that while McFarland pleaded guilty to the Fyre Festival charges, "it is apparent that he did not stop there."
"Today's charges depict our intolerance for such fraudulent activity, and we will continue to diligently investigate acts such as this," Sweeney said.
Mic has reached out to McFarland's attorney for comment.
The details of the two new charges, for wire fraud and money laundering, are included in the sealed complaint embedded below:
Mic first learned about the charges from documentary filmmaker Jenner Furst, who is currently developing a docuseries on the Fyre Festival through his company Cinemart, in collaboration with both Mic and Billboard, that will air in 2019.
Furst, who was in the courtroom as the new charges were filed against McFarland, described it as "somber scene."
"His parents were distraught, his girlfriend was crying, and it didn't seem like he was coming home anytime soon," Furst said.
According to Furst, McFarland turned himself in to the authorities earlier on Tuesday.
"The Cinemart has been in touch with Billy since August 2017 about his side of the story," Furst said. "This morning, we got an emergency text from him saying that he was turning himself in to the FBI."
This is a developing story and Mic will continue update as we learn more details.
June 12, 2018, 6:00 p.m. Eastern: This story has been updated.