Today in Trump's America: Trump embraces pro-Confederate Senate nominee Corey Stewart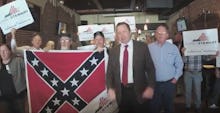 Welcome to Mic's daily read on Donald Trump's America. Want to receive this as a daily email in your inbox? Subscribe here.
Good morning from Emily Singer at Mic.
Here's what's happening in Trump's America:
• Trump has an empty schedule. He arrived back at the White House early Wednesday morning after a more than 24-hour trip from Singapore for his summit with North Korea's Kim Jong Un.
About last night: Women again dominate Democratic primaries; Republicans pick pro-Confederate nominee for Virginia Senate
Women are still on a roll in Democratic primaries.
In Virginia, Democrats nominated women in all four competitive House seats this November. Nominees include:
• Elaine Luria, a former Navy commander who will run in Virginia's 2nd District, which is filled with military families as it is home to a large Naval base in Norfolk. Luria continues the trend of Democrats nominating female veterans.
Dave Wasserman, a House race expert from the nonpartisan Cook Political Report, tweeted an eye-popping statistic: So far, Democrats have nominated women candidates in 73 out of 150 seats that don't have an incumbent running. That's far different than the 18 women whom Republicans have nominated in 112 districts without an incumbent.
Republicans, on the other hand, ousted one of their own House incumbents who has been critical of Trump. Rep. Mark Sanford (R-S.C.) lost a primary to fellow Republican Katie Arrington, who received a last-minute endorsement from Trump via tweet.
Sanford's loss makes it even more likely that Republican lawmakers won't stand up to Trump if they want to keep their jobs.
On Wednesday morning, Trump tried to take credit for Arrington's victory, suggesting his one tweet just a few hours before polls closed was the deciding factor.
"My political representatives didn't want me to get involved in the Mark Sanford primary, thinking that Sanford would easily win — but with a few hours left I felt that Katie was such a good candidate, and Sanford was so bad, I had to give it a shot. Congrats to Katie Arrington!" Trump tweeted.
Trump also tweeted about another GOP primary in a way that is sure to give Republicans heartburn.
While national Republicans are likely to distance themselves from Corey Stewart — the GOP nominee in Virginia's Senate race who has embraced Confederate symbols and neo-Nazi figures — Trump congratulated Stewart on his win.
"Congratulations to Corey Stewart for his great victory for Senator from Virginia," Trump tweeted Wednesday morning. "Now he runs against a total stiff, Tim Kaine, who is weak on crime and borders, and wants to raise your taxes through the roof. Don't underestimate Corey, a major chance of winning!"
Trump's praise of Stewart is far different from other Republicans, who lament the fact that Stewart won and have condemned Stewart's embrace of Confederate symbols.
"I am extremely disappointed that a candidate like Corey Stewart could win the Republican nomination for U.S. Senate," Bill Bolling, a Republican and former lieutenant governor of Virginia, tweeted Tuesday night. "This is clearly not the Republican Party I once knew, loved and proudly served. Every time I think things can't get worse they do, and there is no end in sight."
Today in Trump's America: Republicans continue to struggle with what to think about Trump's North Korea summit
Trump is back in Washington after his summit with North Korea's Kim Jong Un, and Republicans are still conflicted about how to react to the meeting.
Trump, for his part, continues to take a victory lap from the summit, declaring in a Wednesday morning tweet that there is "no longer a Nuclear Threat from North Korea" (random capital letters are Trump's), and that Americans can now "sleep well tonight!"
But Republicans — many of whom spent years attacking former President Barack Obama for meeting with leaders of U.S. adversaries such as Iran and Cuba — now must contend with the fact that Trump just projected a buddy-buddy image with one of the most brutal dictators in the world.
Senate Foreign Relations Committee Chairman Bob Corker sounded skeptical in his response to Trump's meeting with Kim.
"While I am glad the president and Kim Jong Un were able to meet, it is difficult to determine what of concrete nature has occurred," Corker said in a statement. "I look forward to having Secretary Pompeo before our committee soon to share his insights and look forward to carrying out our oversight responsibilities."
And the rest…
The wave continues: There have been numerous takes in recent weeks about how the Democratic wave that appeared to be cresting was fizzling out, but a result in a special election in Wisconsin Tuesday night busted that narrative. Democrats flipped their 43rd state legislative seat, winning a district that Trump carried by 18 points in 2016, according to Mother Jones' Ari Berman. Wisconsin Republican Gov. Scott Walker initially refused to hold a special election for this open seat, but he was forced to schedule it via a court ruling. Walker tried to cancel the special election after Republicans lost another special election for a state Supreme Court seat earlier this year.
Bad news for Cynthia Nixon: Progressive Democrat Cynthia Nixon got some unwelcome polling news Wednesday morning in her quest to oust New York Democratic Gov. Andrew Cuomo in a Democratic primary. Despite garnering media attention for her attacks on Cuomo as being insufficiently progressive, Nixon actually saw her polling numbers fall in a Siena College poll. Cuomo leads Nixon 61% to 26%. That's down from a Siena College poll in April that found Cuomo leading 58% to 27%.
Immigration reform: House Republicans will vote on two different immigration bills next week as part of a compromise deal between House leadership and moderate Republicans, who have been on a quest to force an immigration reform vote. According to Politico, Republicans will vote on a conservative immigration proposal written by Rep. Bob Goodlatte (R-Va.) and a yet-to-be-seen "compromise" bill. Politico reports that neither bill will pass, and that immigration reform advocates who wanted to see the Deferred Action for Childhood Arrivals program codified into law will likely not get the outcome they want.