Stefano Gabbana of Dolce & Gabbana calls Selena Gomez "so ugly" on Instagram, igniting fans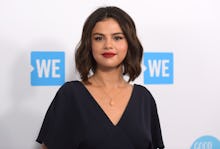 Oh, Stefano. You again.
The more combative and controversial designer behind the brand Dolce & Gabbana, Stefano Gabbana — who was thrilled to dress first lady Melania Trump and then mocked fans who were upset — has a new target: Selena Gomez.
For reasons unknown to us, Gabbana commented on an Instagram picture from the fashion website Catwalk Italia, which showed Gomez in a series of red dresses with the Italian phrase "è proprio brutta!!!"
Translation, via Instagram? "She's so ugly!!!"
Fans immediately leapt to Gomez's defense, responding to him directly with comments like "shame on you for online bullying," "like your opinion matters" and "we don't care about your lame ass brand."
Gabbana offered up a classic "hahahahaha" in response.
Gomez's defenders have infiltrated Gabbana's personal account as well, commenting on random pictures with comments like: "You are a sorry excuse for a human being."
Gabbana has a history of mocking and also egging on his critics on social media, going so far as to create "Boycott Dolce & Gabbana" T-shirts. He is also a man full of nonsense opinions: He believes sexual harassment is normal and does not constitute as violence, and he decided that producing T-shirts that read "I'm not gay I'm a man" was a good idea.
Gomez has worn Dolce & Gabbana multiple times over the years, and now we doubt she ever will again.
Mic has reached out to Dolce & Gabbana for comment.