Inside the ACLU's efforts to stop the Trump administration's family separation policy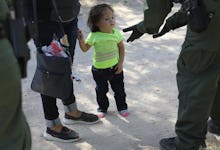 A 5-year-old boy crying himself to sleep at night with stick-figure drawings of his family stuffed under his pillow; a mother given five minutes to say goodbye to her young, screaming children before being carted off to a detention center; a grandmother separated from her disabled grandson for 10 months and counting.
Scenes from the front lines of the Trump administration's recently enacted "zero tolerance" immigration policy have become increasingly grim. Under the White House's plan, detained asylum-seeking parents are being forcibly separated from their minor children, a policy which frequently sees those children placed in the custody of nonprofit-run shelters or foster care while their adult relatives languish in federal prisons, sometimes in different states.
Amid what sometimes feels like an unbroken barrage of worsening reports — like Oregon Sen. Jeff Merkley's claim he saw some children locked in cages at an immigrant processing center in McAllen, Texas — several groups, including the American Psychiatric Association, Physicians for Human Rights and the American Academy of Pediatrics have forcefully condemned the new approach to curbing illegal immigration.
The American Civil Liberties Union on March 9 filed a national class-action lawsuit challenging the Trump administration's decision to separate asylum-seeking parents from their children, broadening an already existing suit filed on behalf a mother fleeing violence in the Democratic Republic of Congo who had been separated from her 7-year-old daughter.
The mother and her daughter were reunited a week after the initial suit was filed. The ACLU notched another win in the case June 7, when U.S. District Judge Dana M. Sabraw ruled against a motion by the federal government to dismiss the case on constitutional grounds. The organization now awaits a decision on whether the judge will issue a nationwide preliminary injunction to halt the separation of families going forward.
Lee Gelernt, deputy director of the ACLU's Immigrants' Rights Project and the lead lawyer on the case, said nearly 2,000 kids have been separated from their parents, adding that those children are "being traumatized" by the policy.
"What we're seeing on the ground is horrific — kids who are just so young, as young as 1 year old, screaming as they're taken away," Gelernt said in an interview.
Gelernt also said the ACLU is advocating for the immediate release of almost all the parents and children, whom the organization believes are not flight risks or dangers to society.
"But if they're going to insist on detaining some of the families," he added, "we want them to do it as the lesser of the evils, to do it at a family detention center that was built for this purpose so that parents and children can be together."
Since the family separation policy was implemented nationwide, its shapers and most staunch defenders — including Attorney General Jeff Sessions and Homeland Security Secretary Kirstjen Nielsen — have strongly implied the tactic was initially conceived as a deterrent to future immigrants or asylum-seekers.
Gelernt confirmed that although the government is relying on a "shifting rationale" to justify the policy in court, he and the rest of ACLU's legal team believe the true reasoning behind the crackdown is the hope it will dissuade people from seeking asylum in the country altogether.
"They think that detaining them is not a sufficient deterrent, and so they feel like if they can take the kids away, word will get around the world that you might lose your child when you come here and it might stop people from coming," he said.
Gelernt's description hews closely to the actual line of reasoning Sessions offered up June 5, when he said the separation policy was a "message" from the Trump administration to would-be immigrants.
"If people don't want to be separated from their children, they should not bring them with them," Sessions said in an interview with radio host Hugh Hewitt. "We've got to get this message out. You're not given immunity. You have to, you will be prosecuted if you bring, if you come illegally. And if you bring children, you'll still be prosecuted."
In a May interview with NPR, Nielsen argued the practice is similar to the incarceration any other adult convicted of a crime in America would face, despite the fact asylum-seekers are typically fleeing from life-or-death situations in their home countries.
"That's no different than what we do every day in every part of the United States — when an adult of a family commits a crime," Nielsen said of splitting up families that enter the country illegally. "If you as a parent break into a house, you will be incarcerated by police and thereby separated from your family."
But Astrid Dominguez, director of the ACLU Regional Center for Border Rights, said the fact asylum-seeking parents are being criminally charged with illegal entry is just another broad symbolic move by the government.
"This administration [is] just creating more people with records," Dominguez said. "They are trying to deter them from coming, and they're legitimate asylum-seekers. They're sending them to federal court, they're prosecuting them, the judge sentences them to time served, then they go back [to] the station or marshal custody but [aren't] reunited with their child."
In the haze of anxiety that comes with being separated from a child, Dominguez said some parents — many of whom have legitimate asylum claims — are "dropping [their claim] because they think if they do that, they're going to be reunited faster with their kid.
"They're really putting them in a very tough position, and they're making decisions under stress, thinking, 'If I drop all of this, I'm going to be reunited with my child,'" Dominguez added.
It was reported June 9 that a 39-year-old father from Honduras — who "suffered a breakdown" after Border Patrol agents separated him from his wife and young son — later hung himself in a Texas jail cell.
"This is what we're dealing with," Dominguez said. "People who have already fled their home countries because of horrific conditions and violence, coming to our country seeking help, and this is how we're treating them. It's just heartbreaking."