Cynthia Nixon unveils bold new education plan for New York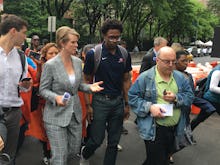 New York — On Wednesday, New York Democratic gubernatorial candidate Cynthia Nixon announced a bold new education plan for New York state that includes everything from "free college for all," to keeping immigration enforcement officers out of schools, to the "greatest expansion of early childhood learning in the history of New York State."
At an event announcing her plan at Borough of Manhattan Community College in downtown Manhattan, Nixon stood beneath a large campaign sign that read "Schools not Jails" and delivered a blunt assessment of New York schools to a room of supporters filled to capacity.
"My Educate New York initiative will cost $7.3 billion dollars," Nixon told the crowd. "That sounds expensive. It is and it should be."
Nixon told the crowd that she plans to fund her proposal through a combination of tax increases on the state's millionaires and billionaires along with savings from ending certain state corporate tax giveaways.
"Some of the wealthiest people and corporations in the entire world reside here," Nixon said during her speech. 
"A whopping 20% of America's billionaires call New York home. Last year, bonuses on Wall Street were nearly three times as high as what the average American family makes all year... Andrew Cuomo has made a choice. He has chosen tax cuts for the wealthy over funding for kids; and this year, again, he refused to introduce a tax on millionaires that could have brought the billions to our schools that they are owed."
Cuomo has come under fire from progressives over tax policy for repeatedly shooting down a proposal for a "millionaire's tax," and lowering or eliminating taxes for some businesses.
Education funding has been at the heart of Nixon's campaign since she first announced her intention to run for governor. At the heart of Nixon's critique is a 1993 lawsuit brought by education activists who said that New York's system for allocating education funding was unconstitutional. That lawsuit was settled in 2006 and a plan was drafted over the next two years to reallocate billions in education funding to underfunded New York public schools.
But that settlement plan was effectively put on hold after the Great Recession hit in 2009. By 2017, advocates claimed that New York schools were still owed $4.3 billion from the state, but the Cuomo administration argued that the funding figures from the settlement were never intended to be binding and represented more of a target "goal" for education funding. In the 2017 budget, Cuomo pushed through a controversial change to the funding formula which advocates called an effective "repeal" of the aid agreement.
"Our children and their families will not have to sue me to get the funds they deserve," Nixon said. "In my first year in office I will immediately restart payment on the money the state owes our schools, and over the course of three years we will scale up to the full $4.2 billion we owe so we can bring back our school counselors, our art and music programs, our paraprofessionals, our smaller class sizes."
Among the many provisions in her plan is a promise to create 500 new "community schools" — schools built in partnership with local communities to prepare children for careers in those communities — across the state.
Nixon also vowed to fix "cultural gaps" in the state's early childhood education by increasing the number of books from black and Latinx authors while also looking to diversify public teaching staff across the state. And Nixon promised sweeping reforms to reduce the number of interactions black and brown students have with law enforcement officials in their schools, while also creating a statewide plan to protect undocumented students from Immigration and Customs Enforcement officials.
When it came to policies for post-secondary education, Nixon lambasted Cuomo's free-tuition college program, saying it currently served less than four percent of students in New York's city and state public colleges. She claims that her plan would serve seven times as many students, allow them to use their federal aid for things other than tuition, like room and board, and would be open to DACA recipients, which the current program is not.
Cuomo's policy has a number of restrictions on who can use it and students must first put their federal and state aide money toward tuition in order to take advantage of it. According to the New York Times, only 23,000 students were benefiting from the program as of February.
Nixon's plan received praise from a number of high profile New York educators, including Nobel Prize winning Columbia economist Joseph Stiglitz. But her chances of making it a reality may be slipping away.
A new Sienna College poll released the same morning as Nixon's speech found her trailing Cuomo in the polls by 35 percentage points, a gap that's 4 points wider than a poll released by the same group in April.
But Nixon's supporters did not seem deterred by the new polling numbers, showing up in droves to the event and even waiting outside to accompany the candidate on her walk back to the subway after college officials told them the event was over capacity.
Prior to taking the stage, Nixon spoke with several local advocates who were being denied entry due to lack of seating. After the exchange, a young leader with the group New York Public Research Group seemed disappointed she could not get into the event, but unwavering in her support for Nixon.
"At least she's trying," the young woman said. "That makes her better than Cuomo."