Why the future of food — and hunger — is in the hands of chefs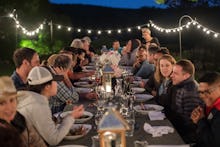 COLD SPRING, New York — On Monday, after a fueling breakfast of bacon, scrambled eggs, French toast and coffee — tons of coffee — a group of 14 chefs from around the country gathered around to hear a Powerpoint presentation. Seated in stiff chairs set up at long tables arranged into one rectangle, the chefs, most of them leaders in their kitchens back home, would take on the role of student at the 15th James Beard Foundation's Chefs Boot Camp for Policy and Change, held at Glynwood in upstate New York. Their teacher, Katherine Miller, JBF's senior director of food policy advocacy, knew her audience. "If you're having trouble sitting still, feel free to get up, stretch — do what you need," she told the group.
Her instructions might have sounded rudimentary, but she was, after all, talking to a group of chefs: This troop of people are accustomed to 18-hour days spent on their feet, standing over hot stoves, hunched over cutting boards and putting out fires (both literal and figurative). Many of these grown-ups hadn't been in a traditional classroom setting for years.
"Farmers, women and chefs are the most trusted spokespeople in food."
This year's boot camp, which had more than 800 applicants, was focused on the 2018 Farm Bill and how chefs can advocate for change within the local, state and federal levels of food policy. The guiding principle of the program was this: Chefs have power. Whether they knew it going into the food industry or not, those who provide food are looked to as role models, Miller told them, and have the capacity to shape and evolve the communities they serve. She cited a survey by the Farm 2 Fork Initiative, a nongovernment coalition working on a farm bill revision, that sought out to find who people trust most in food. "Farmers, women and chefs are the most trusted spokespeople in food," Miller told the room more than once.
This group would spend two intensive days first learning the ins and outs of the Farm Bill and then how they could effect change for the country: Miller alluded to the fact that while the administration's progress on revising the Farm Bill is seemingly dormant, chefs — who are, in many cases, the face of food for everyday people — may hold the key to influencing policy and educating citizens about the impact of what can read like a very confusing piece of legislation. The bill, which, among many other things, provides funding for the Supplemental Nutrition Assistance Program (also known as food stamps), will expire at the end of September. Major cuts to SNAP are the pinnacle reason why a revision of the bill has yet to be agreed upon.
"This shit is off the rails," Miller said to the room. "SNAP cuts and modifications continue to be the biggest piece of this conversation." She went on to explain SNAP's history, and how it benefits Americans in need. She shared stats about the program's success and who it serves — 82% of all SNAP benefits go to a household that includes a child, an elderly person or a person with disabilities; SNAP is one of the government programs with the least amount of fraud — and then transitioned to how it was up to chefs to lead change. SNAP, Miller stressed, has proven to reduce hunger and poverty and reduces the country's dependence on food banks.
Many of the chefs in the room have experienced their power firsthand. Sanaa Abourezk, owner of Sanaa's Gourmet Mediterranean in Sioux Falls, South Dakota, leads healthy eating talks in local churches and teaches cooking tutorials monthly to get her community more comfortable with fresh food. Sharing what she's good at is her way in. "If you preach too much, people think you are political," Abourezk said over breakfast.
"As someone who lives in Alabama, a large portion of my job is to convince people of ideas that they wouldn't normally believe," Jim Smith, executive chef of the state of Alabama and former Top Chef contestant said to the room. "But if you live in a state that's 80% Republican, you can't sound like a hippie or people are going to write you off.
So how can chefs make an impact on something like the Farm Bill without ostracizing their patrons and communities? Part of the boot camp's mission is to help already-charitable chefs redirect their generosity and become more mission driven. Making progress as an advocate, Miller said, requires "representing one issue rather than donating to several." Zeroing in on a single cause will help make chefs an authority on their issue and contribute to lasting change. Heads nodded when Miller guessed that the chefs in the room are constantly asked to make a donation to multiple causes a month. The choice to champion one cause gives restaurants "an easy way to say no when other advocates ask for things," while simultaneously spreading a message, said Miller. In other words, focusing all efforts on one charity or cause can sometimes be more meaningful than spreading out resources over multiple fundraisers.
To further support chefs in work they do outside the kitchen, Miller spoke about advocacy strategies like getting press for charitable missions and how hashtags can help a movement.
Cheetie Kumar, the chef at Garland in Raleigh, North Carolina, seemed to become more cognizant of her potential power in the moment. "Even though we're running restaurants that charge people with disposable income, the point is to raise awareness," she said to the group after a particularly disheartening stat relating to the Farm Bill: While 78% of Americans view food insecurity as a serious problem, only 25% opposed proposed cuts to SNAP programs. "[Voters] aren't seeing the whole picture of all the families that affected by food insecurity," Kumar continued. "We can shine a light on it."