Alexander Wang talks pride-inspired capsule collection and using fashion as a vehicle for change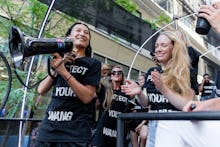 In the 13 years since launching his eponymous brand, Alexander Wang has asserted himself as one of the most high-profile and in-demand designers working today. His name alone is synonymous with luxury.
The 34-year-old designer, fresh off the heels of his most recent runway show — which is no longer part of New York Fashion Week — and the drop of his third-season collaboration with Adidas, is teaming up with Trojan for round two of their "Protect Your Wang" campaign. And this time, it includes a capsule collection to celebrate Pride Month.
A portion of proceeds from the brands' partnership will be made to the LGBT Center of New York to support the organization's sexual health programs.
For the second consecutive year, Wang will also design a "Protect Your Wang" float for the New York City Pride March on Sunday.
Mic chatted with the prolific designer about the collab, his best pride memories, the biggest conversation fashion is not having and his latest "Immigrant Americana" themed collection.
Mic: How did this collab come about?
Alexander Wang: It started last year with me reaching out to Trojan wanting to work on an initiative for the pride parade, and we were able to create a float together and donate proceeds toward the LGBT Center here in New York. We had made T-shirts for the parade, but it was so last-minute that we weren't able to actually produce them, to actually sell them and donate the proceeds. So this year we were able to team up again, this time creating a capsule collection that we [are] able to sell on Instagram and at our New York store that will benefit the center.
You've done collabs with Magnum, Adidas, H&M. I'm sure a lot of brands want to collaborate with you. How do you go about choosing?
AW: We start with thinking about the intent and the message. Usually it starts with working with the leader from whatever field or industry that brand is in, seeing how they construct it, how they are innovative and how they approach their consumers in a new and interesting way.
Pride is different now than it was just two years ago under the Obama administration. How has your idea of pride shifted as a result?
AW: For me, growing up in San Francisco, pride has always been something that's been such an influential and important event for me. Coming to New York, where it was on a bigger scale, it was something that I knew I wanted to be a part of — especially in this time when there's so much [division] and negativity out there. It became even more important for me to participate and use this platform that I have to share a positive message and bring people together for not only what they have in common, but what their differences are.
Of all your pride experiences over the years, do you have a particular memory that stands out for you?
AW: Last year was really, really special because I was able to participate in the parade from a different perspective and ride it all the way through, not just from one segment but from the top, all the way down to Christopher Street. It gave me much more perspective on everyone that's able to come from all over the world, not just the New York area, and it was so magical. Definitely my favorite pride, and hopefully, this year can do the same.
You are known for creating spectacles in your shows, which creates an added pressure around not just creating garments but also an experience. One can go to school for and become an apprentice in design, but the same is not true for creating spectacles. How did you get so good at it?
AW: [Laughs] For me, growing up not part of the traditional fashion system, you know I never had a formal fashion job. I didn't come from a family who was anywhere in the industry; I just kind of relied on my own point of view. Even from the earliest days before we started doing shows, we would just serve tea sets for all the people that would come to our presentation. It was kind of like an extended family. We always thought about our shows and events in different ways, and how to be special and unique for the people that come.
Throughout the years, the attendees have changed, not just from the industry, but bringing in fans, people who are sharing that experience for the first time who have perhaps never been to a fashion show. And you have to balance that with the people who are going to 10 fashion shows a day. You're really trying to bring in different elements that can excite [and] stimulate and [provide] a unique experience for everyone.
You recently changed your logo and unveiled a new brand identity. Why is it important for the Wang brand to constantly be evolving, versus some legacy brands whose business is built on staying the same?
AW: I constantly have this curiosity to explore how we can evolve, especially in this industry right now, where my perspective is that tradition is ... really about innovation and how you can evolve as a brand. Not just from the product that you make, but how you communicate and how [you respond to] everything that is happening in [the] media. The rebrand was the first big step, and also changing our show cadence and timing. Come November, we'll have a lot more to announce.
Your recent collection was inspired by immigrant Americans. What role do you feel fashion and the runway have in reacting to and igniting conversations around the current sociopolitical climate?
AW: Earlier on I would say that that wasn't my main intent. I wanted to create things and be able to share my creativity with an audience that I had never had a connection to, and [tell a story] through product. And now, being able to have incredible opportunities, launching in Paris and coming back, I realized I had this platform to be able to share a larger message. Last season [was] the collection of the female CEO and this season it's "Immigrant American."
I took it back to something that was very personal to me. It started with my parents' immigration story to kind of what Americana was to me growing up. And to put that message out and have it be something that people really respond to and engage with — not just from the creative product perspective, but much more shared on a bigger social level — was amazing.
What's one conversation you wish the fashion industry would have more?
AW: [Laughs] It totally sounds cliché, but probably I would say technology because I think the fashion industry is very behind, and I'm acknowledging that myself. We are making many efforts to try and educate ourselves and learn more about what we can do to move forward and evolve in an industry that is being disrupted so much by technology.
You are one of the busiest people in fashion, period. What do you do to just chill out?
AW: Family vacation in the Hamptons!
We're halfway into pride. I'm curious, what's the gayest thing you've done this month?
AW: Every day is a gay celebration.