The best episode of 'Queer Eye' season 2 features a first for the Netflix series: a transgender man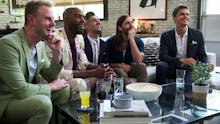 When the first season of the revamped early-aughts makeover show Queer Eye hit Netflix in February, it received high praise for its ability to make even the most soulless among us go from zero to sobbing in an average of 2.45 minutes. Just a few short months later, the show and its Fab Five are back for a second season that's releasing, in full, on Friday — and with a few improvements, to boot.
One of the major criticisms of Queer Eye's first season was that even though it dropped the "for the straight guy" suffix of the original series, it still felt somewhat bound to those rules: All of the contestants on the first season were cisgender men, and just one was queer. The Fab Five themselves are still all gay, cisgender men. Queer Eye's second season seems to have taken that criticism to heart a bit.
Though straight men are still the most numerous among the contestants — because, let's be fair, they desperately need the help — Queer Eye's second season branches out a bit more, introducing us to the reboot's first-ever female contestant. The season's most impactful episode, however, is its fifth, which revolves around Skyler, a transgender man — also a first for the new series. (The original series had an episode with a trans man, but this is a first for the reboot.)
The episode opens with footage from Skyler's recent surgery to remove his breasts, which Jonathan Van Ness, Karamo Brown, Bobby Berk, Antoni Porowski and Tan France are watching along with us from their swanky Atlanta loft. Once the procedure is over and Skyler rouses from his anesthesia-induced sleep, hospital personnel help him sit up — and that's when he looks down for the first time. Despite the lingering effects of the sedation, Skyler is clearly struck by the sight of his new chest, bringing his hands to his face in shock.
The Fab Five are crying. We're crying. Everyone is crying.
It's an incredibly powerful moment that sets the stage for what's to come: the boys helping Skyler — an outspoken, usually rainbow-adorned activist in the local trans community — find an aesthetic that's more refined and that will help him feel more confident about his changing body.
For Tan, the show's fashion expert, it's about assuaging Skyler's fears in getting fitted for a suit — which, when it comes time for the tailor to take measurements, can be a vulnerable, potentially dangerous situation for a trans person. The main challenge for Jonathan, the hair and skin guru, is teaching Skyler the basics of men's grooming and shaving, a foundational, from-father-to-son sort of lesson that a trans man might not get after they come out. And Karamo, the loosely defined culture expert, has to support Skyler through the traumatic process of trying — for the second time — to get the gender marker on his ID changed.
But what makes this episode impactful is not simply watching Skyler come into his own identity more firmly — it's also about watching some of the Fab Five admit their own shortcomings as allies to trans people. Tan, in particular, has an arc in which he admits feeling guilty for not being active in the gay community, which he says stunted his understanding of trans people and why some desire surgeries. It's a sequence that offers a refreshing reminder that even though queer people are in the driver's seat on this particular program, we are far from flawless and need plenty of makeovers of our own.
Though Queer Eye's second season is unlikely to win over anyone who wasn't a fan of its first, there are some subtle, effective changes at play that make this new set of episodes a welcome addition. Rather than ask its five experts to wade into challenging situations the show isn't equipped to handle (remembering the outrageously clumsy Black Lives Matter debate from the first season is enough to give me heart palpitations), the second season of Queer Eye introduces us to a slate of contestants who are fully game for what's to come.
This new season is perhaps slightly less ambitious in its mission to fight "for acceptance" of all queer people. But that also frees up its central cast a bit more to help those who are already on their side — including themselves.