The number of startups founded by black women has more than doubled since 2016. Here's why.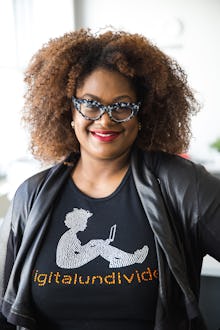 The number of startups founded by black women in the United States has more than doubled since 2016, according to ProjectDiane 2018, a report published Wednesday by Digitalundivided, a social enterprise focused on helping women-of-color entrepreneurs gain access to capital. There are 227 such companies in the U.S. as of 2017, up from 88 in 2016. But disparities remain. Black women still account for just 4% of founders of startups led by at least one woman founder, according to the report. And funding for black women-led startups is still low on average compared to startups in general, though it has been rising lately.
"It's easy to ignore a problem if it isn't quantified," Kathryn Finney, founder of Digitalundivided, said in an interview after speaking on a panel about ProjectDiane at the Forbes Live Impact Summit in New York City on Wednesday morning. "Once you put a number to it, it is hard to ignore. When we first came out with ProjectDiane in 2016 and we saw there [were] only 88 black women startups and black women had received less than 0.2% of venture funding, it was very hard to ignore that number."
The inaugural 2016 ProjectDiane report sparked an industry-wide conversation about funding black women-led startups, Finney said. Two years of incremental progress followed, including a growing number of black women securing seven-figure investments. The number of black women founders who raised at least $1 million increased from 12 in 2015 to 34 in 2017. These include Amanda Johnson and KJ Miller, founders of Mented Cosmetics, a makeup line for women of color, and Jessica Matthews, founder of Uncharted Play, a renewable energy solutions startup. (According to the report, this million-dollar designation indicates that a startup was able to raise money after its seed-funding round.)
"Post-ProjectDiane 2016, there was an increase of stories about women of color in the space," Kinney said. "So role-modeling started to happen. People started to see people like them creating startups. And how do you know you can do something if you've never seen anybody do it?"
In phone interviews Wednesday, black women founders echoed similar perspectives about their recent successes.
"We're seeing in the media where other black women are accomplishing these amazing things, and it's like, 'I can do that too,' said Brittney Marshall, who in 2013 founded My Brown Box, initially a beauty supplies subscription company for women of color that Marshall later rebranded as a self-help media platform. "It's that domino effect. It's encouraging us. Ultimately, we're really starting to believe this message and we're really starting to cultivate it."
Shaniqua Davis, founder of Noirefy, a site that connects job recruiters to diverse talent, says these stories have encouraged more black women to pursue their ideas.
"I don't think black women have been in a position to control the needle for a lot of things throughout history," Davis said in a phone interview. "Being able to go into an era of black women empowerment, black girl magic — it feels good to have some control in something that we haven't been able to before."
Davis launched Noirefy in 2016 with "a few thousand" dollars of her own savings, before eventually joining WiSTEM, a Chicago-based accelerator program for women-founded startups. She is currently in the process of raising $500,000 in seed capital. But these funding success stories are still exceptions to the rule. Finney said bias is partly to blame.
"One of the things that we found is as a black woman founder you have an hour meeting with an investor and the first 45 minutes is explaining why you're even in the room because they're so shocked that you're in the room," Finney said of the pitch process. "Then you only get 15 minutes to actually talk about your business and why it's important."
Black startup founders overall — men and women — are less likely to secure business loans than their white counterparts, according to the Stanford Institute for Economic Policy Research. This is especially true in areas with a history of stark racial inequality. Reasons cited in the Stanford report include a combination of lower net worth, poor credit scores and trepidation toward applying for loans in the first place for fear of rejection. Fast Company reported in 2017 that black venture capitalists — who accounted for just 1.7% of investment professionals working for venture capital funds in 2015 — often have a hard time convincing investors that startups founded by people of color are valuable enough to back.
Building communities for black and Latina women to combat these obstacles was essential to Digitalundivided's mission, Finney said. Digitalundivided has called on policymakers in smaller cities to create incentives, such as tax breaks and co-working spaces, to attract black women-led startups, suggesting it would be less expensive to run their businesses in small markets. The organization has also called for more entrepreneurial initiatives at historically black colleges and universities.
On Wednesday's panel, Bryanda Law — founder of Quirktastic Media, a platform for nonwhite science fiction and comic book fans, and a participant in Digitalundivided's 2017 incubator program — said being part of an incubator with people that looked like her shortened the learning curve as she transitioned from life as a scientist who blogged on the side to a full-time startup entrepreneur.
"No questions [we asked] were stupid," Law said. After the panel, Law added that Digitalundivided's mentorship helped prepare her to scout investors for Quirktastic. "Unfortunately, you kind of have to accept that you're going to walk in a room where no one looks like you, and they may question you and some of the questions might not even be related to your business. You know that people may not understand, but then you'll find the people that do."
Law does her best to come to investment meetings prepared by making sure her audience remains her top priority and by knowing the data about Quirktastic's value, she said. But she wants investors to also do their part.
"Black women have always been killing it and I think it'll finally take the other side to realize, 'We need to step up,' and see there are great ideas out there."