Kim Kardashian West and Alice Marie Johnson speak out about meeting for first time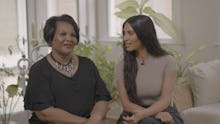 SOUTHAVEN, Miss. — Kim Kardashian West traveled to Mississippi on Wednesday to meet Alice Marie Johnson, the 63-year-old woman whose life without parole sentence was recently commuted by President Donald Trump after Kardashian West's petition.
The meeting marked the first time the two had met in person since Kardashian West broke the news of Johnson's commutation to her via a telephone call to the prison.
"To me, Kim does not seem like a celebrity, she seems like a friend," Johnson told Mic in a video interview just hours before meeting Kardashian West. "I don't have that feeling that others have about meeting her as 'Celebrity Kim,' but I'm meeting a friend who fought for me."
Johnson served over 21 years of her life sentence in federal prison for a first-time nonviolent drug offense. She was charged in 1996 after becoming involved in a drug conspiracy.
Kardashian West first became aware of Johnson's story after an October Mic Opinion video where Johnson shared her story from prison. Kardashian West says it was that video that compelled her to hire a legal team to help petition for Johnson's release.
In recent weeks, Kardashian West attended an Oval Office meeting with Trump to discuss the case, and then, just last week, he signed Johnson's clemency papers, a decision that resulted from the culmination of months of behind-the-scenes legal work.
"This has been such a roller coaster ride." Kardashian West said. "I mean, it's gone up and we felt like, 'OK, it's going to happen,' and then just our spirits so down when we think it's not gonna go in that direction, and it's been such an emotional roller coaster just behind the scenes that it's so gratifying that we're here and we did it."
Johnson said she believes it was God who brought Kardashian West to her aid.
"I feel incredibly blessed," Johnson said. "I know that this is not an accident. This is all part of what God had planned for me, if only I could've seen it. If only I could've seen what was going to happen."
Johnson said she doesn't believe she would ever be released from prison without Kardashian West's help. After being denied clemency three times, most recently in 2016 by then-President Barack Obama, Johnson was running out of options.
"Everyone was saying that "if you don't get [clemency during the Obama presidency], it's not going to happen," Johnson said. "So under the new administration, I just believe this is part of the whole plan of God to show everybody that you can get a miracle from the least likely sources."
Johnson believes the criticism around Trump's decision to commute Johnson's sentence for "only a political gain" is unfounded.
"He could have selected someone less controversial than myself," she said. "How about you just give this man credit for doing something good, for doing something humane, and stop making everything political?"
When asked about what's next for the both of them, Johnson and Kardashian West both expressed their intention of working to help more people trapped in the criminal justice system.
"Alice is just the beginning," Kardashian West said. "It's bigger than us. I think this is just opening the door."
Watch the video above and learn more about Johnson's journey to clemency here.