Camille Cosby can divorce Bill Cosby, but she can't escape what she's said in defense of him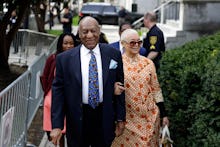 Word around the internet is Camille Cosby is due to divorce her husband Bill Cosby following his conviction on charges of sexual assault. According to a Wednesday report from Radar Online, Camille has fled the Pennsylvania mansion the two have long shared, thus leaving Pudding Pop to purportedly "wallow in solitary confinement." And her tagalongs apparently include their chef, their multiple drivers, their house manager, all of whom have reportedly relocated to a separate Massachusetts property and haven't paid any visits to the disgraced 80-year-old comedian in months.
"They've been fighting and arguing since the verdict," claimed a source. "She wanted a divorce, but he begged her to stay!" The gossip site added that it has indeed spotted Camille Cosby out in Massachusetts, where she is being comforted by friends and "hawking family assets in the wake of Cosby's massive legal bills" — including their private jet, his vast vintage car collection and California-based properties.
Now sure, Radar Online — a celebrity gossip site — is kind of like Pearl from 227 in that, yeah, she has her ears to the street, but that old bitty often jumbles up her intel, bless her heart. (Side note: Rest in peace, Helen Martin.)
On Thursday, Bill Cosby's representative, Andrew Wyatt, denied Radar's report in an interview with People, and characterized the story as a "ridiculous story from an egregious publication." He continued, saying, "The accusations they have made in their tabloid are absolutely false. ... Mrs. and Mr. Cosby are not getting divorced and she's with him in the Philadelphia home as we speak."
However, if there's nothing else that the John Edwards scandal of yore has taught us, it's that you sometimes have to give an American Media, Inc. owned publication, which Radar Online is, the benefit of the doubt. And it makes sense that, given Bill Cosby, an octogenarian, faces up to 30 years in prison for the sexual assault of Andrea Constand, perhaps Camille Cosby is finally ready to leave behind a marriage that has endured several extramarital affairs and now at least 60 women accusing him of sexual assault. Even so, there is something frustrating behind a source telling Radar Online that what Camille wants is "to reside quietly in Shelburne" without her husband's "reputation affecting the life she's building for herself!"
While it would not be fair to fault Camille for the crimes committed by her husband, we can, however, judge her based upon the remarks she made in defense of him.
In 2014, as allegations against her husband began to mount, Camille released a statement in which she took issue with the way the media was covering the matter.
"A different man has been portrayed in the media over the last two months," she said in the statement. "It is the portrait of a man I do not know. It is also a portrait painted by individuals and organizations whom many in the media have given a pass. There appears to be no vetting of my husband's accusers before stories are published or aired. An accusation is published, and immediately goes viral."
A year later, a source told the New York Post, "Camille still doesn't believe that Bill provided drugs and had sex with women without their consent. She's well aware of his cheating, but she doesn't believe that her husband is a rapist."
As for why she continued to support her husband while others staunchly encouraged her to run like hell away from him, Mrs. Cosby was described by the Post source as "a proud, dignified but stubborn woman." Keeping in line with the theme of Camille caring about her legacy, a separate source said to have done business with the Cosbys added, "You can say that she's standing by her husband, but really, the more people stand against him, the more she perceives it as an affront to her and all that she's done to make him a star."
Another constant from Camille is her contempt for the media. The first tweet from Bill Cosby's Twitter account following his first sexual assault case ending in a mistrial was a statement from her.
She took shots at the district attorney, the judge, the legal teams representing her husband's accusers and branded the media in general as "blatantly vicious entities" that sell sensationalism "at the expense of a human life." Although Camille was not present at the retrial, she released a fiery message after the guilty verdict was announced. "Once again, an innocent person has been found guilty based on an unthinking, unquestioning, unconstitutional frenzy propagated by the media and allowed to play out in a supposed court of law," she said.
Calling it "mob justice, not real justice," Camille Cosby went on to liken her husband to Emmett Till and other black men who have been falsely accused of rape by white women. It is a comparison that is as vomit-inducing as it is inherently ironic. After all, this is the wife of the man who delivered the infamous "Pound Cake" speech, which may have ultimately given way to his downfall. Nonetheless, he offered the same level of contempt toward poor black people as the very racists the two would later complain about.
Not long after that speech, Andrea Constand was paid a settlement over these same allegations of sexual assault. Camille knew he was accused of something truly awful, but she stood by him anyway. And not only did she stand by him, but she also berated his accusers, denigrated the prosecutors and lawyers acting on their behalves and condemned the media for simply covering the story that was a mess of his own making.
Whether or not Camille leaves her husband, it's too late to say he is "affecting the life she's building for herself." She made a choice, and there are consequences. Much like her convicted rapist husband, Camille cares more about how she is perceived by the world than she does the people who live in it, people who may have found themselves hurt by her husband and her words in support of him.
She can leave Bill to die alone in a prison cell, but no amount of distance will blind people from her actions. The life Bill and Camille Cosby built was based on lies. If her husband can no longer get away from them, neither should she.
June 14, 2018, 3:38 p.m.: This story has been updated.