Today in Trump's America: Is this the end for Scott Pruitt?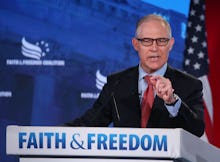 Welcome to Mic's daily read on Donald Trump's America. Want to receive this as a daily email in your inbox? Subscribe here.
Good morning from Emily Singer at Mic.
Here's what's happening in Trump's America:
• The Supreme Court may release more opinions Thursday morning beginning at 10 a.m. The court has a number of cases left to release and just two weeks remaining in the term, leading to the extra opinion release day.
About last night: Sarah Huckabee Sanders denies report that she's leaving the White House
CBS News dropped a major bombshell Wednesday night, when the outlet reported White House press secretary Sarah Huckabee Sanders and her deputy, Raj Shah, were both planning to depart the White House.
CBS reported that Sanders was set to exit "at the end of the year," while Shah had "not yet settled on an exact date" for his departure.
The report came amidst turmoil in the White House communications team, which has been ridden with leaks that have frustrated Trump — including a leak about a mean-spirited joke now-former communications aide Kelly Sadler made about Sen. John McCain (R-Ariz.). The leaks have angered Trump so much that he reportedly demanded a shake-up of the communication team, Politico reported in May.
Sanders, however, pushed back on the report.
"Does @CBSNews know something I don't about my plans and my future?" Sanders tweeted Wednesday night. "I was at my daughter's year-end Kindergarten event and they ran a story about my 'plans to leave the WH' without even talking to me. I love my job and am honored to work for @POTUS"
If Sanders were to leave by the end of the year, she would become the second White House press secretary to depart in as many years. Sean Spicer left the White House in July 2017. The White House has also cycled through communications directors, including Mike Dubke, Anthony Scaramucci and Hope Hicks. The position currently remains unfilled.
Today in Trump's America: The end for Scott Pruitt?
After weeks and weeks of scandal, Environmental Protection Agency administrator Scott Pruitt's time may finally be up, as conservative Fox News pundits, whom Trump watches and admires, are now calling for Pruitt to be fired.
"PRUITT BAD JUDGMENT HURTING @POTUS, GOTTA GO," Laura Ingraham, a conservative Fox News host, tweeted Wednesday.
Ingraham was responding to just the latest unflattering story about Pruitt's potentially unethical behavior at the EPA. According to the Washington Post, Pruitt used an EPA aide to ask Republican donors to give his wife a job with a conservative group, and he continued to push after one donor told Pruitt it presented a conflict of interest.
On her radio show Wednesday, Ingraham blasted Pruitt's "judgement lapses," according to Politico.
"He's hurting the president because he has bad judgment after bad judgment after bad judgment," Ingraham said on the show, according to Politico. "It just doesn't look good. If you want to drain the swamp, you got to have people in it who forgo personal benefits."
Aside from Ingraham, other prominent Republicans have grown tired of Pruitt and said it might be his time to go, including Iowa GOP Sens. Joni Ernst and Chuck Grassley. The American Future Fund, a conservative outside group, is airing ads in the Midwest that call for Pruitt's ouster.
"Scott Pruitt is a swamp monster," the ad says. "Mr. President, you know what to do," the ad continues, going on to show a clip from Trump's show The Apprentice in which Trump says his famous line, "You're fired."
Sen. James Inhofe, a Republican from Pruitt's home state of Oklahoma, said Wednesday it may finally be time for Pruitt to go.
"All these things that are coming out are really not good things," Inhofe told CNN. "So I've kind of taken the position, if that doesn't stop, I'm going to be forced to be in a position where I'm gonna say, well, Scott, you're not doing your job."
Inhofe added that deputy EPA administrator Andrew Wheeler may be a good alternative should Pruitt be fired.
Capitol Hill happenings: Play ball!
It will be an emotional night for members of Congress, who will gather at Nationals Park in Washington to play an annual charity baseball game on the one-year anniversary of a shooting that almost took the life of House Majority Whip Steve Scalise.
Scalise was shot during practice for the game, leaving him in critical condition. He has endured multiple surgeries over the last year to treat complications from the gunshot wound, but he's currently doing well and has been back at work.
Scalise will be on hand Thursday night at the game, which is sure to be an emotional event.
And the rest…
White House desperate for staff: The White House has been plagued by a mass exodus of staff from the West Wing, and it has struggled even more to find people to replace the employees who left. The situation has led the White House to advertise jobs at a job fair on Capitol Hill, Politico reported. "There are positions currently open and we are looking for the most competent conservatives to recommend," a flyer for the job fair reads, according to Politico.
There he goes…: Newly minted Virginia Senate Republican nominee Corey Stewart is already causing trouble, sharing fake memes on Twitter that accuse his opponent, Democratic Sen. Tim Kaine, of supporting the protest group antifa.