Movement Must-Reads: Trump's threats against Chicago and digitizing the black press's photo archives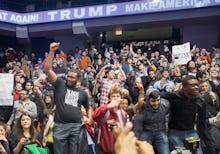 Mic's ongoing coverage of Kim Kardashian West's successful campaign to get Alice Marie Johnson's prison sentence commuted reached an emotional apex this week when the two women — a reality TV star and a 63-year-old grandmother who's been imprisoned for more than two decades — met in person for the first time.
Plus, the continuing debate around President Donald Trump's threats to send federal troops into Chicago and Google-sponsored efforts to preserve photographs from the black press. Read on for more.
From Mic:
Natelegé Whaley on the Obsidian Collections Archive, a Chicago-based archival project partnering with Google to preserve and digitize photographs from black press outlets like the Chicago Defender and Los Angeles Sentinel.
Chauncey Alcorn on the ongoing debate regarding whether the Trump administration should escalate its efforts — which started as threats, but have since progressed to actual deployment — to send federal agents, and possibly troops, to quell gun violence in Chicago.
Michael Arceneaux's searing indictment of Camille Cosby, wife of Bill Cosby, whose apparent attempts to separate herself from her convicted rapist husband bely the years she spent defending him and lambasting his accusers in the face of mounting accusations.
And Jake Horowitz and Kendall Ceismeier on Kim Kardashian West's first in-person meeting with Alice Marie Johnson, whose lifetime prison sentence for a first-time nonviolent drug offense was commuted by President Donald Trump last week after Kardashian West's petition.
From elsewhere:
MSBNC and the Washington Post have dispatches from the first visit by reporters to the detention center in Brownsville, Texas, that's currently housing more than 1,400 undocumented immigrant boys aged 10 to 17, many of whom were forcibly separated from their parents upon arrival at the United States-Mexico border, due to the Trump administration's new "zero tolerance" immigration policies.
The New York Times Magazine with a chilling portrait of the psychological toll American drone warfare in Pakistan, Yemen, Somalia and elsewhere in the Middle East and Africa is taking on its foot soldiers.
The New Yorker's analysis of the U.S. Supreme Court's Husted v. A. Philip Randolph Institute decision last week, which allowed Ohio to purge voters from its rolls for simply not voting in multiple subsequent elections and not responding to postcards verifying their residence. As Jeffrey Toobin notes, the ripple effect this decision will inevitably have — namely, the blessing it gives to other states mulling similar legislation — will disproportionately disenfranchise traditionally Democratic populations, including black Americans, young people, disabled people and poor people.
That's all for now. Until next week.
— Zak Cheney-Rice, Editor and Senior Staff Writer, The Movement