Snapchat's upcoming "Log in with Snapchat" button copies Facebook but adds in privacy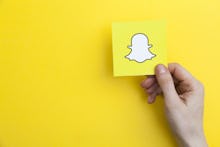 Facebook has lifted Snapchat features like Stories, selfie filters and streaks and brought them to its own apps like Instagram and Messenger. Now Snapchat is taking on a feature from Facebook.
On Thursday, Snapchat launched Snap Kit. According to a press release, the "Connect to Snapchat" and "Log in with Snapchat" buttons will allow developers to tie Snapchat features directly into their apps. In Tinder, for example, it will let you share Bitmoji on the dating app. In Postmates, users can send a snap of their food's estimated arrival time to Snapchat friends. Snap Kit will launch with these two apps as well as the shopping app Poshmark. Other apps receiving deeper Snapchat integration include Eventbrite, Giphy, Pandora and more.
The four tools now available to developers are Creative Kit, Login Kit, Bitmoji Kit and Story Kit. The new login option, reminiscent of Facebook's nearly ubiquitous login button, may be the most familiar to web users. Snapchat will now let you log into apps and sites with its service, but with some key privacy features that Facebook's option does not include.
When logging in via Facebook, users generally see a list of what information they are required to hand over. This could include name, birthday, place of residence and various other pieces of information in your profile. When logging in with Snapchat, apps only get to know your name. As an option, users can also share their Bitmoji with the app they're logging into. Snapchat notes that sharing your friends' info without their permission isn't an option, helping them avoid any Cambridge Analytica-like situations.
Snapchat will automatically log you out of apps that you haven't used for 90 days. This means apps that you logged into and forgot about won't be able to continue leeching off of your personal data years down the road.
Between Facebook lifting Snapchat's features, Instagram using Stories to beat them at their own game, and even Rihanna causing them to lose money, Snapchat could use a win. The company doubling down on privacy could put it ahead of Facebook in at least one regard. While the free app still shares user info with unnamed partners, Snap Kit's login button is a step toward better privacy.