New York attorney general sues Trump Foundation for "pattern of persistent illegal conduct"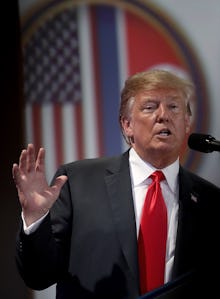 On Thursday, New York Attorney General Barbara Underwood filed a lawsuit against President Donald Trump's charity, which bears his name, alleging that the foundation engaged in "unlawful political coordination with the Trump presidential campaign" and illegal "self-dealing transactions to benefit Mr. Trump's personal and business interests."
The lawsuit is seeking $2.8 million in damages, and seeks to ban Trump from serving as a director of a nonprofit in New York for 10 years. It also seeks to institute a one-year ban on serving as a nonprofit director to his adult children, the other Trump Foundation board members: Donald Trump Jr., Ivanka Trump and Eric Trump.
"Mr. Trump used the Trump Foundation's charitable assets to pay off his legal obligations, to promote Trump hotels and other businesses and to purchase personal items," the New York Attorney General said in a news release. "In addition, at Mr. Trump's behest, the Trump Foundation illegally provided extensive support to his 2016 presidential campaign by using the Trump Foundation's name and funds it raised from the public to promote his campaign for presidency, including in the days before the Iowa nominating caucuses."
The lawsuit points to Trump's decision to refuse to participate in a Republican primary debate in Iowa in January 2016, and instead host a fundraiser to benefit veterans. The suit says that the fundraiser was actually a political event, and therefore violated the rules that govern charities.
"The Iowa fundraiser was planned, organized, financed and directed by the campaign, with administrative assistance from the foundation," according to the suit.
It was the Trump campaign, the lawsuit adds, and not the Trump Foundation, that "played the lead role in determining the disposition of the fundraiser proceeds," and the campaign that handed out the Trump Foundation proceeds "at campaign rallies for the political benefit of Mr. Trump."
"Mr. Trump's wrongful use of the foundation to benefit his campaign was willful and knowing," the lawsuit alleges, further alleging that Trump perjured himself when he "repeatedly" declared in tax documents that "the foundation did not carry out political activity."
Also alleged in the lawsuit is that the foundation illegally gave money to the re-election campaign of Florida Attorney General Pam Bondi.
Trump tweeted a repsonse to the announcement of the lawsuit quickly on Thursday morning, denouncing the New York Democrats and former New York Attorney General Eric Schneiderman, who stepped down in May after of being accused of physical abuse by former romantic partners.
"The sleazy New York Democrats, and their now disgraced (and run out of town) A.G. Eric Schneiderman, are doing everything they can to sue me on a foundation that took in $18,800,000 and gave out to charity more money than it took in, $19,200,000. I won't settle this case!" the president tweeted.
"....Schneiderman, who ran the Clinton campaign in New York, never had the guts to bring this ridiculous case, which lingered in their office for almost 2 years. Now he resigned his office in disgrace, and his disciples brought it when we would not settle," he wrote in a subsequent tweet.