Brie Larson calls for more inclusive film criticism: "Am I saying I hate white dudes? No, I am not."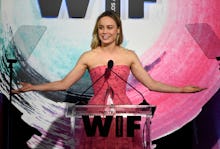 Brie Larson was honored with an award at the Women in Film Crystal and Lucy Awards on Wednesday night in Beverly Hills, California, and the 28-year-old Oscar-winning actress took the opportunity as a chance to call for more inclusive and diverse film criticism.
Larson reportedly referenced statistics from USC's Annenberg Inclusion Initiative, which tracks diversity in the entertainment industry. The Annenberg Inclusion Initiative recently released a report highlighting the predominance of white, male movie reviewers. When it came to the top 100 films of 2017, the report found, 63.9% of all the critics who reviewed them were white men.
"I don't need a 40-year-old white dude to tell me what didn't work about A Wrinkle in Time," Larson said at Wednesday night's event. "It wasn't made for him! I want to know what it meant to women of color, biracial women, to teen women of color."
The goal, Larson made clear, is to ensure that movies are being seen and reviewed by critics who represent the actual audiences for whom they're intended. "Am I saying I hate white dudes? No, I am not. What I am saying is if you make a movie that is a love letter to women of color, there is an insanely low chance a woman of color will have a chance to see your movie, and review your movie."
Larson called for critics to more accurately reflect the U.S. population and movie-going audiences — which, she said, would also require studios to make the effort to invite critics who are women or underrepresented minorities to premieres so they get the opportunity to even see the films in the first place.
"It really sucks that reviews matter — but reviews matter," Larson said, according to USA Today. "Good reviews out of festivals give small, independent films a fighting chance to be bought and seen. Good reviews help films gross money, good reviews slingshot films into awards contenders ... a good review can change your life."
A Wrinkle in Time director Ava DuVernay took note of Larson's reference to her film, tweeting out on Thursday morning, "@BrieLarson is a warrior. Much respect."
Larson, who is set to play the lead in Captain Marvel, one of Marvel's upcoming 2019 films and the first in the massively successful cinematic universe to be helmed by a woman superhero, has used her celebrity platform for social impact before. She tweeted out her commitment to valuing black lives in the days following police shootings of Alton Sterling and Philando Castile, and famously did not applaud best actor-winner Casey Affleck at the 2017 Oscars when she presented him with his award.