While You Weren't Looking: 5 important immigration stories from the week you probably missed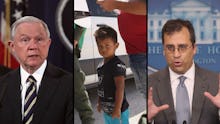 Every week, Mic takes a look back at some of the important policy stories from the Trump administration that may have been overlooked in the cacophony of scandals and drama constantly flowing out of the Oval Office.
Usually, that involves looking across multiple agencies of the federal government to see what they have been doing while everyone was focused on President Donald Trump. But this week there were major stories revolving around one particular area of focus for this administration — immigration.
Over the past few weeks, the Trump administration has ramped up immigration enforcement measures in ways many have found cruel and unsettling.
Here are five important stories from the past week you might have missed.
DOJ will stop accepting asylum claims from people trying to escape gang violence or domestic abuse
On Monday, Attorney General Jeff Sessions announced he will no longer process asylum claims for people who cite gang violence and domestic abuse as their reason for fleeing their home countries.
In a Department of Justice ruling, Sessions overturned a standing precedent allowing people to cite fears of violent reprisals from abusive family members or gangs in order to seek asylum in the United States.
Sessions referred to those circumstances as "private violence," and should be considered separate and apart from refugees fleeing violent governments and regimes.
In many Central and South American countries, gang violence has become a nationwide epidemic. The United Nations has found that violence against women in El Salvador, Guatemala, Honduras and Mexico to be comparable to political refugee crises in other parts of the world.
The US will start taking unprecedented steps to strip people of their citizenship
U.S. Citizenship and Immigration Services will soon start proactively investigating current naturalized U.S. citizens to see if they are eligible to be stripped of their citizen status, according to the Associated Press.
The agency is staffing up to look into potential misrepresentations on citizenship applications that could call into question the legitimacy of those applications.
Up until now, denaturalization cases were rare and were reserved only for the most serious cases like war criminals and former Nazis.
USCIS director L. Fancis Cissna told the AP that the effort is an attempt to root out people who lied about their identities in order to gain citizenship, but immigration advocates worry that naturalized citizens who made innocent mistakes on their applications could get swept up in the process without the resources to fight back in court.
US government plans to put immigrant children in tent camps
As the Trump administration continues its widely condemned policy of separating immigrant children from their parents at the border, they've begun looking for new ways to house those detained children.
On Tuesday, McClatchy was first to report that the administration is looking to build outdoor tent encampments to hold between 1,000 to 5,000 children who have either shown up unaccompanied or have been separated from their parents.
Among the potential sites for the new tent encampments are Fort Bliss near El Paso, Dyess Air Force Base in Abilene and Goodfellow AFB in San Angelo.
Since the administration took its hardline position on separating families, the number of immigrant children in the federal government's custody has risen by 20%.
The Office of Refugee Resettlement currently oversees around 100 shelters that are at 95% capacity, according to McClatchy.
Woman has infant child ripped away from her by immigration officials while she was breastfeeding
An undocumented woman from Honduras alleges immigration officials took away her infant away while she was breastfeeding her daughter.
The woman reportedly wept as she told Natalia Cornelio, an immigration attorney with the Texas Civil Rights Project, that officials had taken her child. Cornelio later conveyed the woman's story to CNN.
Officials have reportedly been employing a number of cruel and deceptive tactics when taking children away from their parents, which Cornelio described to CNN as "essentially torturing people."
In a separate interview with CNN, an assistant federal public defender for the Southern District of Texas said some officials have told immigrants they are taking their children away to bathe them, when in fact they are separating them indefinitely.
Immigrant dies by suicide after being separated from his family at the border
A Honduran man died by suicide while in the custody of immigration officials, after becoming upset over being separated from his family, according to the Washington Post.
Marco Antonio Muñoz, 39, entered the country after crossing the border with his wife and 3-year-old child before being stopped by Border Patrol agents.
After being apprehended, Muñoz and his family attempted to seek asylum. After Muñoz was told he would be separated from his family he reportedly became very upset, and officials forcibly removed his child from him. Though Muñoz never assaulted the officers, they considered him "pre-assault" and used force to restrain him.
Muñoz was taken to a local jail in Starr County, where he attempted to escape multiple times. Officials say he was checked in on every 30 minutes. Officers found his body at 9:50 a.m.
Muñoz's wife and son were later released from custody.
June 15, 2018, 4:24 p.m.: This story has been updated.