It's hard to look "Beyond Pride" when LGBTQ celebrations still exclude people of color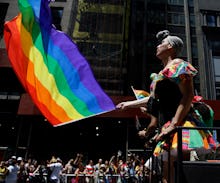 Editor's Note: What will the future hold for LGBTQ rights and representation? With this year's Beyond Pride series, Mic looks forward to seeing how the radical changes in recent years will continue to transform our culture in the worlds of politics, business, entertainment and more. You can receive all these stories in your inbox by signing up here.
My immediate thoughts about the month of June — as both a native Texan and a vintage black — first and foremost go to Juneteenth. June 19 is a day in which we honor the announcement of the abolition of slavery and commemorate the freeing of the last of the enslaved in the United States. Then, my reflections quickly shift to recognizing June as Black Music Month. Insert Teddy Pendergrass, the Isley Brothers, Chaka Khan, Mary J. Blige, and maybe sneak in a cut from Teena Marie for an affirmative action pick.
I'd be remiss not to also note that June serves as LGBTQ Pride Month, but it's the last on my list of turn-ups. As a gay black man, I still tend to struggle with the significance of the 30-day celebration. It's not because I lack pride in my identity — I don't. However, the event commemorated by Pride Month, namely the 1969 Stonewall riot in New York City, was largely the work of black people like Marsha P. Johnson. But the ongoing lack of inclusion that surrounds so many of the festivities — and the general culture of erasure when it comes to people of color within LGBTQ communities — makes it hard for me to think about future progress for queer people.
In May, Lucas Keller, president and founder of the entertainment management company Milk & Honey, hosted the Out to Brunch luncheon, which was reportedly organized to honor "the most successful gay songwriters, artists and other creatives." Attendants included Troye Sivan, Adam Lambert and a bunch of other white gay men. Based on the pictures from the event, there wasn't a speck of color in the room. It is not that difficult to find nonwhite songwriters who happen to be queer in a place like Los Angeles.
Such failures recall many pride events in recent history. Sure, nonwhite people certainly take part in pride-related festivities in June, but how often are the events still called out for lack of diversity? There is a reason why there is pride and then there are black pride events that conspicuously take place in later months.
It is difficult for some of us to envision a promising tomorrow when so much of what's taking place in the present is intolerable. In 2017, the New York Times Magazine published "America's Hidden H.I.V. Epidemic," which highlighted the reality that while the HIV/AIDS crisis has long been over for white men who have sex with men, the same is not the case for their black and Latinx counterparts. The HIV/AIDS epidemic isn't hidden. It is ignored by the masses because the victims aren't representative of the majority. Indeed, four years prior, the New York Times published another piece, this one called "Poor Black and Hispanic Men Are the Face of H.I.V." which explained that the crisis isn't so much about condom usage among black and Latinx men as it is a lack of urgency in trying to reach them with prevention efforts.
The lack of urgency contributes to the needless deaths that mark these communities. As a gay black man, I worry about myself and my community, but those fears are shared by anyone who is "other" in this current climate — particularly queer and trans people. There is the ongoing saga of trans women — most of whom are women of color, specifically black — being killed across the country. At least 10 transgender women have been killed in 2018 — including two women within a single week in May.
And of course, there is the racist, sexist, xenophobic administration currently led by a white supremacist. In his first campaign rally since the Pulse nightclub shooting in Orlando, Florida, then-candidate Donald Trump said, "We want to live in a country where gay and lesbian Americans and all Americans are safe from radical Islam, which, by the way, wants to murder and has murdered gays and they enslave women."
He went on to assert that his political opponent, Hillary Clinton, was "no friend of LGBT Americans" while claiming that he would be. Yet, under the first year of his administration, Trump undid much of the progress made under President Barack Obama. He tried to reinstate a ban on trans people joining and serving in the military; appointed Neil Gorsuch, who has a record of anti-LGBTQ stances, to the Supreme Court; and dismissed all the members of the Presidential Advisory Council on HIV/AIDS, among issuing a litany of other anti-LGBTQ regulations. Two years in a row, he has left Pride Month off of his list of June proclamations, NBC reported.
I don't aim to be a total sourpuss. I know progress has been made for LGBTQ communities. In May, GLAAD unveiled a report noting that LGBTQ representation in media has dropped, but that racial diversity among LGBTQ characters had increased in 2017. I am encouraged by the success of films such as Moonlight and Call Me by Your Name, and in awe of people like Adam Rippon, Lena Waithe and Janelle Monáe, who are living their truths out loud. I am hopeful that so many young queer people do not share the fears that people around my age had growing up, though data shows feelings of sadness, hopelessness, and suicidal thoughts are on the rise among teenagers.
But the landscape could be better on many fronts. There is still so much uncertainty in this period we live in — and by we, I especially mean people who ain't white, male and rich.
I am still having to watch my back, so it's hard for me to stick out my neck to look that far ahead. But if there's anything I'd like to see happen in the next decade, it would be the future of pride to not look as segregated as the rest of America still does. This country tends to collectively trick itself into thinking it is further along than it is and more progressive than it ever bothers to prove.
There is a misdiagnosis of how good it is out here, and I can't look beyond that. But I do hope those looking ahead will read this, pause and think about more ways they can reach back and pull others in so that we can all forge a brighter future.