Mic Daily: Kim Kardashian West and Alice Marie Johnson meet, New York sues Trump Foundation and more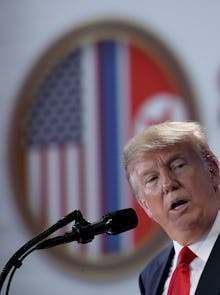 Welcome to Mic Daily: Mic's short, smart email newsletter that cuts through the noise and lands in your inbox every weekday. We carefully curate each edition to send you a cross section of our most impactful, vital, touching stories of the day.
New York attorney general sues Trump Foundation for "pattern of persistent illegal conduct"
On Thursday, New York Attorney General Barbara Underwood filed a lawsuit against President Donald Trump's charity, which bears his name, alleging that the foundation engaged in "unlawful political coordination with the Trump presidential campaign" and illegal "self-dealing transactions to benefit Mr. Trump's personal and business interests."
Inspector General: Comey botched Clinton email investigation, but wasn't politically motivated
James Comey was "insubordinate" and "dramatically" broke from FBI norms in his handling of the investigation into Hillary Clinton's use of a private email server in 2016, but was not politically motivated in his actions, according to a scathing 568-page inspector general report released Thursday.
We looked back at every Pixar movie to see how many actually had female main characters
When it comes to female characters, Pixar has seemed to struggle. A 2017 Vanity Fair story was headlined, "Pixar's Had a Problem With Women for Decades," and cited allegations of inappropriate behavior against studio co-founder John Lasseter and the startlingly low percentage of major writing credits on Pixar films that have gone to women.
The new Incredibles 2 focuses on the mom of the film's central superhero family: Elastigirl, voiced by Holly Hunter. According to reviews, the storyline deals with Elastigirl heading back to work as a superhero while her husband, the protagonist of the first movie, stays home with the kids. Focusing on Elastigirl instead of her husband seems to make Incredibles 2 a rare female-led Pixar film. To measure just how rare it is in the Pixar canon, Mic's Anna Swartz decided to take a look at just how many of the studio's feature films thus far (not including the upcoming Incredibles 2) have had female main characters.
Video: Kim Kardashian West and Alice Marie Johnson speak out about meeting for first time
Kim Kardashian West traveled to Mississippi on Wednesday to meet Alice Marie Johnson, the 63-year-old woman whose life-without-parole sentence was recently commuted by President Donald Trump after Kardashian West's petition.
The meeting marked the first time the two had met in person since Kardashian West broke the news of Johnson's commutation to her via a telephone call to the prison.