Trump slaps tariffs on $50 billion worth of Chinese technology goods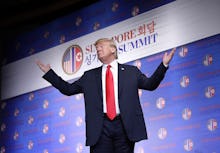 President Donald Trump on Friday escalated the global trade war he has begun, announcing the U.S. will hit China with a 25% tariffs on $50 billion worth of Chinese technological goods imported into the country.
"The United States can no longer tolerate losing our technology and intellectual property through unfair economic practices," Trump said in a statement Friday morning.
"These tariffs are essential to preventing further unfair transfers of American technology and intellectual property to China, which will protect American jobs," Trump added. "In addition, they will serve as an initial step toward bringing balance to the trade relationship between the United States and China."
Trump went on to threaten China with more penalties, should the country decide to retaliate.
"The United States will pursue additional tariffs if China engages in retaliatory measures, such as imposing new tariffs on United States goods, services or agricultural products; raising nontariff barriers; or taking punitive actions against American exporters or American companies operating in China," Trump said in the statement.
The move from Trump comes just days after a spat with Canada's Prime Minister Justin Trudeau over tariffs on Canadian imports, which came in the immediate aftermath of a tense G7 summit in Quebec over the weekend.
Economists have given dire warnings about these actions. Gary Cohn, Trump's former top economic adviser, told the Washington Post Thursday that the penalties could halt the growing economy in its tracks.
"If you end up with a tariff battle, you will end up with price inflation, and you could end up with consumer debt," Cohn said at an event hosted by the Washington Post. "Those are all historic ingredients for an economic slowdown."
Some congressional Republicans, such as Sen. Bob Corker (R-Tenn.), want to halt Trump's tariffs. But GOP leaders on Capitol Hill seem to have no appetite to use their oversight powers to strip Trump of his ability to unilaterally impose tariffs. Corker has gone as far as to accuse congressional Republicans of being too scared to oppose the president.
"We might poke the bear!" Corker said this week, mocking his Republican colleagues. "My gosh, if the president gets upset with us we might not be in the majority."