Today in Trump's America: Republicans rail against the FBI after release of IG report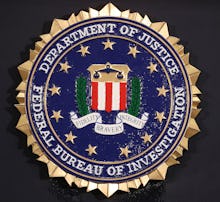 Welcome to Mic's daily read on Donald Trump's America. Want to receive this as a daily email in your inbox? Subscribe here.
Good morning from Emily Singer at Mic.
Here's what's happening in Trump's America:
• It's a (nearly) summer Friday in Washington, so not much action is scheduled to take place. Beware the Friday news dump, though.
About last night: GOP rails against FBI, even after inspector general's report shows Clinton was hurt by Comey's actions
Your NTA author is convinced that we've all been sentenced to a version of purgatory where the post-mortem of the 2016 election just will not end.
It's been 585 days since the election, and yet here we are — again — discussing James Comey's conduct as the head of the FBI during the Hillary Clinton email investigation. This week it's thanks to an inspector general report released Thursday about the FBI's handling of the email investigation.
Republicans have glommed onto specific aspects of the 568-page report, most notably text messages between two officials, which the IG said "raised questions about the objectivity" of the FBI. But ultimately, the IG didn't find evidence that bureau agents "directly affected the specific investigative actions."
Yet the biggest takeaway from the IG report is that it concluded Comey's actions against Clinton broke with long-standing FBI policies — giving credence to Democratic complaints that his actions negatively impacted Clinton's electoral chances.
"We concluded that Comey's unilateral announcement [that the FBI would not charge Clinton] was inconsistent with Department policy and violated long-standing Department practice and protocol by, among other things, criticizing Clinton's uncharged conduct," the report says.
Comey's reasoning for announcing the FBI was reopening the email investigation in the final days of the election was not up to snuff, the report also says.
"We found unpersuasive Comey's explanation as to why transparency was more important than Department policy and practice with regard to the reactivated Midyear investigation while, by contrast, Department policy and practice were more important to follow with regard to the Clinton Foundation and Russia investigations," the report says.
Nevertheless, Republicans — who, remember, gleefully exploited Comey's comments about the Clinton email investigation during the election — are now using this report to try to end special counsel Robert Mueller's investigation into the Trump campaign. Mueller's investigation, of course, has nothing to do with the IG report.
"The reality is the [investigation] was launched bc Pres Trump became GOP nominee, was extended w/FISA abuse bc he was closer to winning & became Special Counsel probe bc he won," Rep. Lee Zeldin (R-N.Y.) tweeted of the IG report.
Of course, Mueller's investigation was not launched for any of those reasons at all. The FBI was investigating the Trump campaign's Russia ties, thanks to a drunken meeting Trump campaign aide George Papadopoulos had in 2016 with a diplomat. During the meeting, Papadopoulos admitted knowing Russia had emails related to Clinton and that they could be used to hurt her campaign. And Mueller was only drawn into the fray when Attorney General Jeff Sessions recused himself from the investigation.
After the report was released Thursday, Trump's lawyer Rudy Giuliani went on Trump-friendly Fox News to call for the end of Mueller's investigation.
"Every FBI agent should demand that that man be fired, and tomorrow. Mueller should suspend his investigation, and he should go see Rod Rosenstein who created him, and the deputy attorney general and Attorney General Sessions, who should now step up big time to save his department, should suspend that investigation, throw out all the people who have been involved in the phony Trump investigation and bring in honest FBI agents from the New York office who I can trust implicitly," Giuliani said on Sean Hannity's program.
Today in Trump's America: House releases text of immigration reform bill
House Republicans released text of an immigration reform bill Thursday, which draws the GOP straight into the debate over the Trump administration's policy to separate migrant children from their parents.
The immigration reform bill includes text that would keep migrant children and their parents together when they come to the U.S. seeking asylum, according to a copy obtained by Politico.
"We don't want kids to be separated from their parents," House Speaker Paul Ryan told reporters Thursday.
Yet the bill — which would codify the Deferred Action for Childhood Arrivals program into law — also includes hard-line immigration provisions that make it unlikely to become law. Those provisions include a $25 billion outlay for Trump's border wall, cuts to legal immigration and a provision that would allow for quicker deportations of unaccompanied migrant children.
Immigration advocates are already panning the law.
"It ends family separation by gutting asylum, prolonging detention and hastening deportation," Frank Sharry, founder of the immigration advocacy group America's Voice, tweeted. "Not exactly a family friendly approach to quickly send escaping families back into the burning house they fled. They are no longer separated, and they are no longer safe."
And the rest…
State-run media: Trump is reportedly enthralled by the female North Korean news anchor who heaps praise on Kim Jong Un in her state-run TV appearances. "He joked that even the administration-friendly Fox News was not as lavish in its praise as the state TV anchor, one of the people added, and that maybe she should get a job on U.S. television, instead," according to the Washington Post report.
Russia, Russia Russia: Trump parroted a line used by Russian President Vladimir Putin to defend Russia's annexation of Crimea from Ukraine in 2014, saying Crimea is Russia's because people who live there speak Russian, according to a report from BuzzFeed News. Trump made the remark at the G7 summit last week.