Who's Sorry This Week? Gisele Bündchen, Neil Patrick Harris, Coach and other public apologies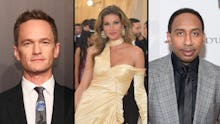 Another week, another deluge of apologies.
In Who's Sorry This Week? Mic tracks down the most prominent mea culpas from celebrities, companies and other public entities trying to make amends for their various screw-ups.
This week had no shortage of apologies, so let's get right to it.
Gisele Bündchen is sorry people "misunderstood" her comments about Instagram models
Supermodel Gisele Bündchen appears on July's cover of Vogue, and in an interview with the fashion magazine published online Thursday, the 37-year-old talked about her reluctant relationship with Instagram. She said she doesn't use it much, noting that if her younger sister didn't remind her to post selfies for her fans, she'd probably just post pictures of pretty sunsets.
That's when the conversation turned to younger models who use Instagram to book gigs and promote their work.
"It's not my generation — I have to be honest about that," Bündchen said. "I'm older, wiser. If I had to promote myself in the way girls modeling now have to do it, forget it. I wouldn't do it."
Apparently, Bündchen's characterization of herself as "wiser" than Instagram models gave some readers the impression she was talking down to others in the industry. Bündchen apologized Thursday morning.
"I'm sorry that my words in my most recent Vogue article were misunderstood," she wrote on Twitter. "My intention was simply to express that I come from an older generation and am not technologically savvy. I admire the younger generation and their skill to manage all the added demand of social media. I certainly never feel that I am wiser than anyone, and I believe that we are all learning."
Neil Patrick Harris is sorry he didn't recognize Rachel Bloom and made a bad tweet about it
Actor Neil Patrick Harris posted the following tweet during the Tony Awards on Sunday: "Who is the woman in the top hat backstage at @TheTonyAwards? [My son] Gideon remarked that she says 'like' and 'oh my god' a lot. I'm confused..."
The woman was Rachel Bloom, co-creator and star of Crazy Ex-Girlfriend. She attended the ceremony as a backstage host, riffing with nominees on camera — and she was none too happy Harris had no idea who she was. Because he should.
"I'm a big fan of yours," Bloom responded. "We've met numerous times and my husband, Dan Gregor, wrote for How I Met Your Mother for five years. Notably, he wrote the episode where your character finally meets his father."
Shortly thereafter, Harris responded to Bloom's tweet, simply saying, "Indeed! Well said. Thanks for the reminder. How was backstage?" In an interview with GQ a few days later, Bloom expanded on how the interaction struck her as indicative of the dark side of social media fame.
"He's not a writer, so his version of a Twitter joke is to just kind of … live-comment to Twitter followers with kind of random, unformed thoughts," Bloom said. "And fame does that to you — where you think every kind of random, unformed thought is a gem, because you get 10,000 likes from it.
"He has, like, 27 million Twitter followers. And that makes me scared about fame in general. The yes-men. Even if what you're saying is, I don't know, kind of weird or unoriginal, you're still getting a lot of approval and dopamine surges for saying it. And I really, really hope that I can surround myself with people who will call me out on my shit, so that — even if I ever were to have 27 million Twitter followers — I would be just kind of … a person first and a famous person second."
Harris issued a formal apology shortly after the GQ interview started making the rounds online.
"Sincere apologies to @Racheldoesstuff for my Tony tweet," he tweeted. "I failed to research her before pressing 'send,' and what I thought was a funny comment in our living room must have been far from funny to read backstage, mid-show. As a performer and a parent, I should have known better."
Bloom responded, tweeting, "Hi, thank you for this! Apology accepted."
Coach is sorry it misgendered transgender actress Dominique Jackson
Transgender actress Dominique Jackson, who stars on FX's new series Pose, posted a video to Twitter and Instagram on Tuesday in which she criticized brands who try to participate in Pride Month celebrations but totally miss the point.
"So, happy pride, everyone, I hope you guys have been watching and enjoying Pose," Jackson said. "A lot of companies join in on the pride celebration to show they're all-inclusive when they're really not. They don't research us. They don't understand us. They don't attempt to comprehend us."
Jackson specifically called out Coach, who invited her to tell her life story and attend its "Pride Ball," but misgendered her in the process.
"They offered nothing," Jackson said. "Not a car ride. Nothing. Not a pocketbook. Nothing. Then one of their representatives contacts me to invite me to something called their 'Pride Ball' — and misgendered me! You didn't do your research. You're not following the true stories of the LGBTQ community, 'cause you would know that a woman like myself should never be misgendered. It's so insulting."
Shortly thereafter, Coach posted an apology on Twitter.
"We clearly erred, using a template message we didn't check before sending, and therefore got it wrong," Coach said. "In your words, we should have done more to understand the transgender community and to honor you as a woman. Inclusivity is one of our company values and, while we endeavor to demonstrate this inclusivity every day, we are also learning."
In another Twitter video, Jackson said she "accepts and appreciates" Coach's apology and announced she would collaborate with the brand at an event Sunday.
"I do believe that they're trying hard to understand and I really do appreciate it," she said.
ESPN host Stephen A. Smith is sorry he told Snoop Dogg about his penchant for butts
In an interview posted to YouTube on Tuesday, ESPN host Stephen A. Smith told rapper Snoop Dogg he's a butt man.
"Ass or titties?" Snoop asked.
"Always, always ass," Smith responded. "I know I'm associated with Walt Disney, but everybody knows I'm a bottom feeder."
Smith apologized on his ESPN radio show Wednesday, saying he didn't think anything of it when the interview was conducted in October, according to USA Today.
"Evidently it's a big deal," he said. "USA Today is writing about it. Lord knows what other publications. It's gone viral. It's everywhere. I guess it's appropriate to apologize. The reason I say that is because of the attention it's brought to my employers, obviously for the wrong reasons and I have to own that."
Robert De Niro is sorry on behalf of President Donald Trump's "idiotic behavior"
Robert De Niro took the stage at Sunday's Tony Awards to introduce Bruce Springsteen, but before he did, he shared a message with the audience that was censored by CBS.
"I'm gonna say one thing: Fuck Trump," De Niro said into the microphone, throwing two fists into the air. "It's no longer 'down with Trump.' It's fuck Trump."
The following day, De Niro attended the groundbreaking of a Nobu restaurant in Canada, where he took another detour during his remarks to mention Trump. But this time, he apologized to Canadians in the wake of Trump's exit from the G7 summit in Quebec. After leaving the summit, Trump tweeted that Canadian Prime Minister Justin Trudeau was "dishonest and weak."
"I just want to make a note of apology for the idiotic behavior of my president," De Niro said, per CNN. "It's a disgrace. And I apologize to Justin Trudeau and the other people at the G7. It's disgusting."
Fox is sorry UK pop star Robbie Williams gave the middle finger during his FIFA World Cup performance
During a live broadcast of the FIFA World Cup's opening ceremony Thursday in Moscow, U.K. pop star Robbie Williams — who is set to join the British show The X-Factor as a judge in its next cycle — flipped off a camera mid-song. According to Deadline, Williams modified the lyrics to one of his songs, saying something like, "I did this for free," before raising his middle finger.
Video of the incident was shared on Twitter:
A Fox spokesperson quickly apologized.
"The 2018 FIFA World Cup opening ceremony was a newsworthy event produced by a third party and carried live on Fox," a spokesperson said. "As it was broadcast live, we did not know what would happen during Robbie Williams' performance and we apologize."