Google's annual diversity report for 2018 has arrived — here's the good, the bad and the ugly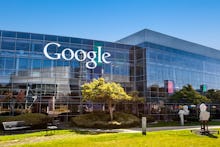 Google released its annual diversity report Thursday detailing the search company's latest statistics on its racial and gender makeup and new initiatives that target inclusion. Like most tech companies, Google can be better in many areas.
The 22-page document charts Google's year in hiring and retaining underrepresented groups.
Here's the good news: Google noted that women make up more than a quarter of its leadership positions at 25.5%. Additionally, people who identify as Asian make up over 36% of Google's overall workforce.
The diversity report also spotlighted Google's long-term inclusion efforts. Programs like Made With Code continue to focus on getting young women ready for tech roles while Howard West does the same for students at the historically black college Howard University in Washington, D.C. The report touted Google's scouting of talent at other historically black universities and colleges, too.
"Overall, in 2017, we welcomed 96 students from HBCUs to Google, up from 14 students in 2014," Danielle Brown, Google's chief diversity and inclusion officer, said in the diversity report. "And, since 2014 we've more than tripled the number of schools where we recruit, from 75 to 225."
Now, here's the bad news: The company's hiring rates of black and Latinx employees have improved, but not by much. In 2017, the rates of hiring for black employees rose from 1.9% to 2%, while its hiring of Latinx employees rose from 3.8% to 4.2%. In total, Google's workforce is 2.5% black and 3.6% Latinx.
For the first time, Google also included stats surrounding attrition — detailing how many employees leave the company annually. Women are leaving the company at a lower ratio than men but, when examining racial groups, black employees are leaving Google at a higher rate than anyone else. Latinx workers are a close second. Asian employees are staying at Google the most.
Many have debated the validity of tech's pipeline problem: the idea that somewhere along the way (between K-12 education, higher education and the other steps leading up to landing a job) people belonging to underrepresented groups are discouraged or excluded along the way. Yet Google's attrition numbers reveal a troubling reality: even when black and Latinx applicants make it into the field, they're among the first to leave.
It's likely that Google isn't the only tech company that struggles with holding onto employees of color, but many other companies leave attrition numbers out of their reports. (Though surprisingly Facebook has done well in this regard.) Google's improvement in recruiting and diversity programs have helped address the racial imbalance in tech. Though the ugly truth remains that employee retention has impeded some of that progress.